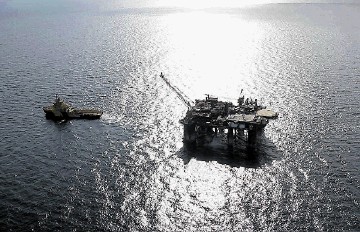 Israel's Delek Group is to become the biggest shareholder in UK North Sea oil and gas firm Ithaca Energy following a £43million investment announced yesterday.
The deal underlines investors still see value in British waters, despite a slump in oil prices and high operating costs in one of the world's most mature oil and gas basins.
Tel Aviv-listed Delek's investment arm is taking a near-20% stake in Ithaca, whose current activity is focused on the construction of a new production hub in the Greater Stella area of the central North Sea.
Ithaca is Canadian-incorporated but has its headquarters in Aberdeen. It is a partner in 11 producing fields and also has exploration assets in the region as a result of its acquisition of Valiant Petroleum in April 2013.
Shares in the company, which has a market value of nearly £150million, surged more than 12%check later after Delek said it was taking advantage of opportunities in the international energy market.
Delek will be entitled to two places on Ithaca's board as well as representation on the various committees following its investment, which represents a 19% premium on the value of Ithaca's shares in Toronto on Thursday.
The deal is expected to complete, subject to "certain customary conditions and regulatory authorisations", next week.
Delek chief executive Asi Bartfeld "This is an important strategic step for Delek Group through expanding its operations and strengthening its position on the international market.
"We intend to continue to take advantage of opportunities in the markets and to examine further strategic investments in international companies in the energy field".
He added: "This (Ithaca) is a company with a most professional and responsible management team, with a great deal of experience in production and a very high standing in the international energy market.
"I am convinced that together with the existing management we will be able to continue to lead the company to significant additional achievements in the E&P (exploration and production) field."
Ithaca, whose London-listed shares have sunk more than 60% since the oil price started to decline in June 2014, said it would use Delek's investment to strengthen its balance sheet and reduce debt.
Les Thomas, chief executive, Ithaca, added: "We are pleased to have secured Delek's investment in the company at a significant premium to the prevailing share price at this time of uncertain oil prices.
"The investment provides a solid vote of confidence in the long-term value of Ithaca by a successful oil and gas investor and provides additional flexibility to execute the financial and strategic priorities of the business."
Ithaca is owned by its management, with a small stake between them, and equity investors including BlackRock, AXA Framlington Investment and Artemis Investment Management.
Recommended for you

Shelf Drilling Perseverance rig to depart North Sea for £58m Vietnam contract