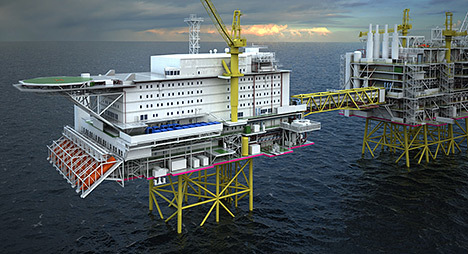 Statoil has awarded the NOK600million ($74.5million) contract for construction of the converter station at Haugsneset to the field to Norwegian firm Aibel.
The engineering, procurement and construction (EPC) contract includes required construction site work for the land-based power supply and also includes trenching and laying of two sets of 300kV alternating-current cables from Kårstø to Haugsneset for both phases of the field development.
This contract is the last of the three major contracts covering the land-based power supply project. The first contract has already been awarded to ABB in Norway for delivery of high-voltage direct current converter equipment for the riser platform at the field centre and for Haugsneset.
Access roads must be built and a construction site must be prepared for the converter stations for both phase 1 and phase 2. The converter equipment to be delivered by ABB will be installed by Aibel.
The company has already been awarded the contract for construction of the deck for the drilling platform on Johan Sverdrup.
Contract number two was awarded to ABB in Sweden for fabrication and installation of two 200-kilometre-long high-voltage cables from Haugsneset to the Johan Sverdrup field.
The Johan Sverdrup oil field will be operated by land-based power from production start late in 2019.
The first phase of the Johan Sverdrup field development will also prepare for a land-based power solution for a full development of the Johan Sverdrup field and other fields on the Utsira High by 2022.
Recommended for you

Oil giants put contracts up for grabs on a series of West of Shetland wells