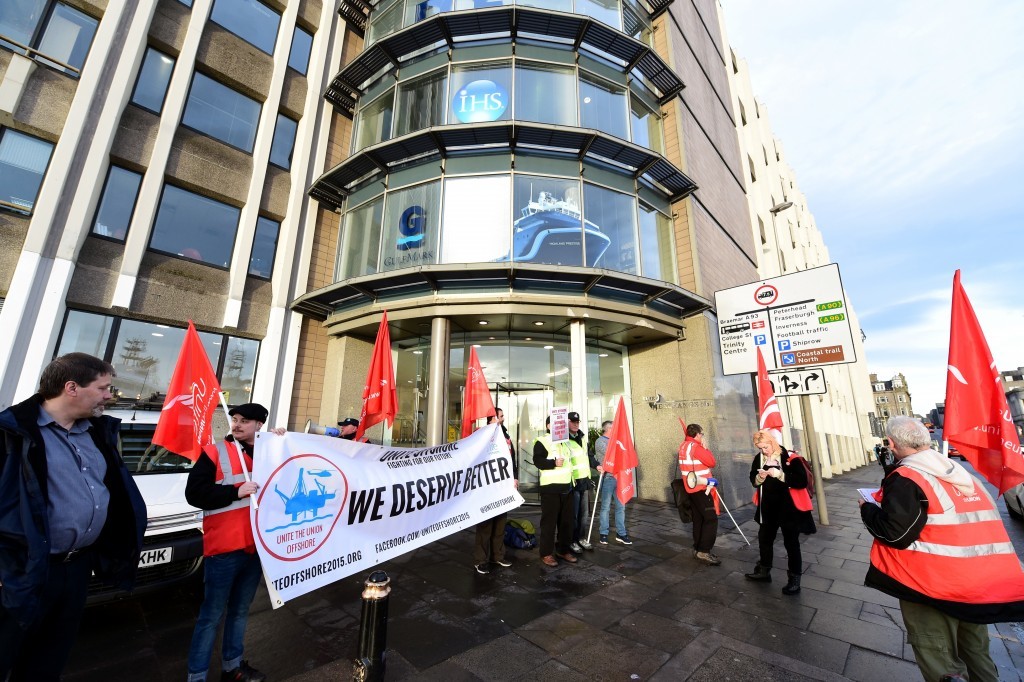 North Sea workers have urged their employers to enter into proper talks with staff as the result of a ballot on industrial action looms.
Catering and auxillary staff plan to protest outside a number of offices across Aberdeen today after COTA (Catering Offshore Trade Association) said it wouldn't pay the second year of a deal which would see a 1.3% rise in wages.
The body is made up of six companies – Aramark, Entier, ESS, FOSS & ESG, Sodexo and Trinity International Services – which supply catering and auxiliary services offshore.
Protests began at Sodexo's offices this morning before moving on to Trinity, ESS, Entier and Aramark.
Speaking to Energy Voice Unite regional officer John Boland said:"They've been extremely reluctant to speak to us so far.
"We've not spoken to them since May and we feel they may have forgotten about us, so we are there to remind them we are still here.
"We've always left the door open for COTA companies to come back and talk to us.
https://play.buto.tv/6xKQ5
"We're not demanding anything unreasonable. We are simply asking for our pay deal to be honoured. Our pay deal was negotiated in good faith – and now it is being torn up.
"We are worried that if the employers are able to attack our pay, then it will be our terms and conditions under attack next. This is unacceptable. So now were making a stand."
Angus Simpson, who recently retired after working for Sodexo for 24 years as a chef on the Brae Alpha, said: "There is a lot of fear. The companies used to listen but they seem to have stopped now. I hope they listen, were not asking for a lot, we're just asking that our terms and conditions are met.
"There is a lot of frustration and fear among workers that if they make too much noise, they will not have a job.
Chef Ian Mundie, who works for Sodexo, is branch representative for Unite. He said: "Caterers are some of the lowest paid workers in the North Sea. We work for our money, we do not stop. We work for our money.
"The oil companies apparently don't have a problem giving us 2%, it's COTA that has the issue. When we lose staff, they aren't being replaced and we have to fill the gaps. We are told that times are hard for the oil industry, but it is the workers who are making the sacrifices.
"The rigs do not get any smaller, the amount of work we do does not get any less."
COTA has called on employees to turn out and vote in ongoing industrial ballots.
Last week, Peter Bruce, chair of the Caterers Offshore Trade Association, said: "Like the rest of our industry, our businesses are under pressure to stem spiralling operating costs against the backdrop of the oil price slump and an aging basin.
"Our member companies are already being forced to make redundancies and we simply cannot expect our businesses to remain competitive if we continue to increase wages."
Unite has more than 1,000 members working as caterers and auxillary staff.
Last month Energy Voice exclusively revealed up to 500 jobs were at risk from the across the member companies.
Recommended for you

Medics on Shell North Sea platforms to be balloted on strike action