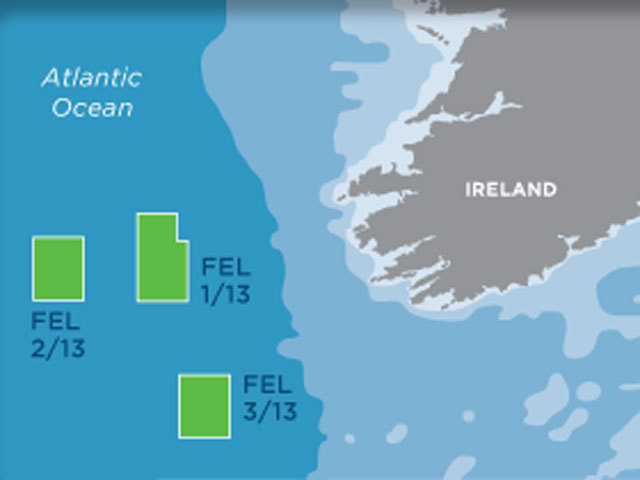 Europa Oil & Gas said an independent assessment carried out on three prospects has estimated an un-risked net present value (NPV) of around $7billion.
The company said the estimate was made on three prospects on the Frontier exploration licence in the Porcupine basin, offshore Ireland.
It was also found on a risked NPV basis, there was a 100% working interest of $1.1billion.
It comes after a competent persons report in May said there was a total gross mean un-risked prospective resource of around 1.5billion barrels of oil equivalent across the three prospects.
Last month after Kosmos Energy announce it would be exiting from Ireland, Europa called for a revision of the NPV to reflect a 100% working interest in the permit.
Chief executive Hugh Mackay said: "The CPR summary issued on 12 May 2015 identified significant potential volumes of hydrocarbons: Gross mean Un-risked Prospective Resources of approximately 1.5 billion barrels of oil equivalent across three prospects in FEL 3/13.
"With the imminent departure of Kosmos from the licence our net interest will revert to 100%, subject to government approval, with a potential Net mean Un-risked NPV10 of approximately US$7 billion and a Net mean Risked NPV10 of US$1.1 billion estimated by ERCE.
"We believe this is a very strong indication of the commercial potential in our licences in offshore Ireland.
"To realise this potential we need to drill exploration wells and find oil.
"Our mission is to land a farm-in partner to share the costs of drilling and the target audience is major and mid-cap oil companies.
"As a consequence of the drop in oil prices day rates for state of the art harsh-environment deepwater drilling rigs have halved.
"The next few years offer an opportunity to drill offshore Ireland at the lowest rig costs in over a decade.
"We are encouraged by the high levels of participation in the 2015 Atlantic Margin Licensing Round, particularly given the low oil price. It would appear that many other companies share our belief in the technical and commercial case for exploration offshore Ireland.
" I look forward to updating the market in due course as we focus on securing a farm-in partner with whom we can work to unlock the potential value of these prospects."
Recommended for you

Oil firm Europa shuffles top team