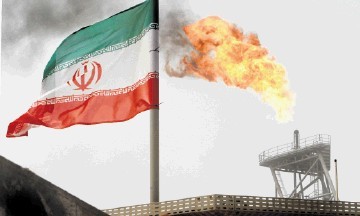 Iran may roil global oil markets with plans to sell about 45 million barrels of fuel stored in tankers in the Persian Gulf within three months of the removal of sanctions on its economy, according to analysts.
Most of the stored oil is condensate that contains a sulfur compound, which complicates sales because many refineries can't process it, said Victor Shum of IHS Inc. and Robin Mills at Dubai-based Manaar Energy Consulting. To market this large amount of oil within three months — the equivalent of about half a million barrels a day — Iran will have to resort to offering deep discounts, they said.
"Iran's getting ready to open the taps," Shum, IHS's head of oil market research, said by phone on Oct. 26. "If they want to unwind this supply in the current weak market, they'll have to offer discounts. It's a buyer's market."
The country is seeking to claw back the market share it lost under sanctions by boosting oil exports after a July deal with world powers to return to energy and financial markets. The condensate in tankers moored off its southern coast will add to a worldwide oil glut, putting more pressure on crude prices that have dropped more than 40 percent in the last year. Sanctions curbed Iran's sales of crude and condensate to 1.4 million barrels a day in 2014 from 2.6 million in 2011, the U.S. Energy Information Administration said in June.
Iran pumped 2.8 million barrels of crude a day in September, making it the fifth-largest producer in the Organization of Petroleum Exporting Countries, according to data compiled by Bloomberg. It plans to boost crude production and exports by 500,000 barrels a day within a week after sanctions are lifted, Roknoddin Javadi, managing director of state-run National Iranian Oil Co., said Oct. 21 in an interview in Tehran. Iran will add another 500,000 barrels in daily sales within six months after curbs are removed, he said.
Shipments of the 45 million barrels of condensate over three months would come on top of these planned crude exports, Javadi said, and surpass current expectations about the wave of Iranian oil poised to hit the market. The condensate, a light hydrocarbon liquid, is pumped from the offshore South Pars natural gas deposit.
Brent crude, the international benchmark, was poised Friday to end the month below $50 a barrel for the fourth time running amid a global glut that's showing no signs of relief. Futures for December settlement rose 33 cents to $49.13 a barrel on the London-based ICE Futures Europe exchange at 10:52 a.m.
"What is probably in the price consensus is around a half- million-barrel-a-day hike" in shipments from Iran, Eugen Weinberg, an analyst at Commerzbank AG in Frankfurt, said by phone on Oct. 28. "If the increase is stronger than expected, it's likely to have a negative impact on the price."
Iran may need to spur sales of its sulfur-heavy condensate by offering discounts of at least 10 to 15 percent, Shum said. Its main condensate customer, Dragon Aromatics Zhangzhou Co. of China, stopped buying after a fire at its plant in April and an Iranian refinery designed to use it won't be ready until 2017, causing stockpiles to build, he said.
Condensate from South Pars is loaded on ships at Assaluyeh, a dusty port where at least a dozen tankers were visible at sea beyond the breakwater on Oct. 22. One tanker, the Super Zearth, was moored that day near one of Assaluyeh's condensate-loading buoys.
"There will have to be a major impact on the market of selling that condensate," said Manaar Energy's Mills, who worked for Royal Dutch Shell Plc on projects in Iran from 1998 to 2003. "If they're already having difficulty shifting it, adding another half million barrels will be even more difficult," he said by phone. "They'll manage, but at what discount?"
Recommended for you

Oil steadies after four-day surge as US product markets run hot