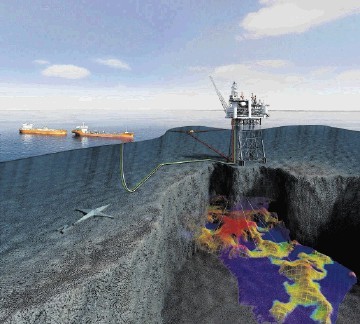 A continued "optimism bias" on projects is challenging the industry to deliver on time, according to leading major projects experts.
Last month, Statoil announced its flagship UK project would face a further delay of a year after a back-log of work in a South Korean shipyard.
It means costs for the development are an additional $700million and will see production start-up pushed back from 2017 to 2018.
Kevin Hingley, chairman of KPMG hpr, said the delay faced by the Mariner project is something seen more widely across other projects in the oil and gas industry.
The Mariner project's topsides, which will make their way to Aberdeen on three different voyages in 2017, are currently under construction at the Daewoo Shipbuilding & Marine Engineering Co (DWME) in South Korea.
The shipyard is still sifting through work which was awarded during a "boom period" in 2012, according to Statoil's vice president of project development, Ingolf Soreide.
Hingley said:"The delays on the Mariner project are something you see every day of the week. There are very few projects in our experience that don't experience delays. The fundamental problem is optimism bias.
"In our experience there is quite often a lack of information from the project and lack of information about a timeframe.
"I think there's a couple of principles I would like to address. I don't think anyone will have the answer – I think there's been a delay of a year and my issue within all these projects – that delay of a year is possibly an accumulation of separate delays that's built up.
"The real question for me is when was that delay known about?
"If it was true that this delay has been known about for some time – then why is it that it only now being disclosed?"
This year, South Korea's majors rig builders Hyundai Heavy Industries (HHI), Samsung Heavy Industries (SHI) and Daewoo Shipbuilding and Marine Engineering (DSME) teamed up in a joint industry project, looking to cut rig construction costs and project delays.
In the same week Statoil announced its project faced delays, Transocean revealed contracts for two new drillships with Shell would both be delayed by a year each.
Michael Nelson, a director at KPMG hpr, said another challenge facing Mariner project will now also be the losses felt until commercial operation is started on the project, which could risk a loss in revenue.
He said the move by shipyards to look at working more closely together could also be influenced by a number of factors.
Nelson said: "First of all what's driving the cost savings, what's driving them, is it market driven, is it losses being made on existing contracts? The other issue is the reality of the importance of these delays is financial, first of all, there is the physical delay.
"There are financial impacts on Statoil and there is also the impact on the start-up of production and there's financial delays in the context of costs for the supply chain because the project is taking longer.
"The delay manifests itself in other ways too – what rights does Statoil have in its contract with the shipyard?"
Hingley said not only the Mariner project, but challenges in other industries too, should change how companies approach project challenges.
He added: "Previously because of the huge oil price, we can put up with these delays. When the oil price is down the desire to put more money in to solve the problem isn't as high because there's less money available.
"There's an attitude if we have enough money we'll overcome the problem, but if the market doesn't allow it the reality is irrespective.
"The industry should be more confident at identifying delays or deal with them earlier so the impact is reduced."