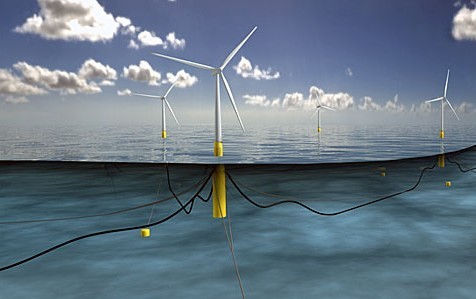 Plans to build the world's largest offshore windfarm off the north-east coast have been approved.
Norwegian energy giant Statoil will erect five 600ft turbines tethered to the bed of the North Sea, 15 miles from Peterhead.
The Scottish Government has today granted the firm a marine licence, allowing construction work on the huge structures to begin.
It will become the UK's first floating windfarm, and the announcement will pave the way for Scotland to be a "world leader" in the industry.
Deputy First Minister John Swinney said Statoil's decision to base the project in the north-east put Scotland at the forefront of this new renewable energy industry.
"Hywind is a hugely exciting project – in terms of electricity generation and technology innovation – and it's a real testament to our energy sector expertise and skilled workforce that Statoil chose Scotland for the world's largest floating windfarm," he said.
"The ability to leverage existing infrastructure and supply chain capabilities from the offshore oil and gas industry create the ideal conditions to position Scotland as a world leader in floating wind technology."
Rather than being embedded in the sea floor, each of the five 1,000-tonne turbines will be anchored down and allowed to float.
The concept means they could – in theory – be in water deeper than any turbine before, largely out of sight of coastal residents.
The water at the proposed North Sea site where Hywind will be anchored is around 360ft deep, but engineers believe the technology could be suitable for waters as deep as 3,600ft.
Now that a marine licence has been secured, Statoil are expected to begin onshore works in Peterhead before the end of the year. Offshore construction will likely begin next year, and a completion date has been set for 2017.
Statoil executive vice-president Irene Rummelhoff added: "We are proud to develop this unique project in Scotland, in a region that has optimal wind conditions, a strong supply chain within oil and gas and supportive public policies."
The news was also welcomed by Scottish Enterprise and WWF Scotland, who hailed it as "significant opportunity" that would provide "clean energy".
Maggie McGinlay, the director of energy and clean technologies at Scottish Enterprise, said: "This announcement is fantastic news for Scotland's renewables industry as a whole, but in particular our growing offshore wind supply chain.
"We've been working closely with our companies to directly link them with Statoil for some considerable time to ensure they are in the best position possible to take advantage of the significant opportunities we know this development will bring."
Lang Banks, director of WWF Scotland, said: "Successfully developing floating turbines could enable Scotland to secure even more clean energy from offshore wind in the future.
"With the right political support for offshore wind and other renewable technologies, Scotland is well placed to become the EU's first renewable electricity nation by 2030."
Recommended for you

Vestas named turbine supplier for Inch Cape wind farm