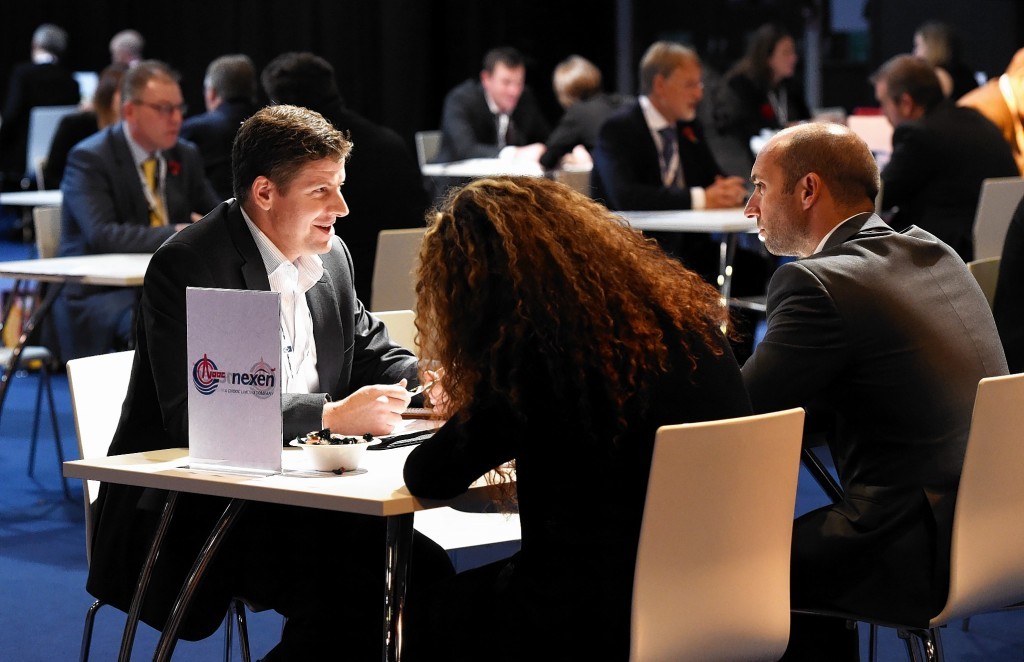 The head of Oil and Gas UK (OGUK) yesterday urged companies to drop "cynicism" and embrace the new way of working after the trade body unveiled a number of new initiatives at an annual business event.
OGUK's Share Fair aims to stoke collaboration and drum up business by giving supply chain companies a rare chance to have one-to-one interviews with operators' decision makers throughout the day, in a format not dissimilar to speed-dating.
OGUK chief executive Deirdre Michie said that while the attendance was down slightly on previous years, a turnout of 900 plus was still very good and showed the industry is trying to improve the difficult situation it finds itself in.
Its Efficiency Task Force (ETF), launched in September, used the occasion of the Share Fair to call for support for a proposed charter that sets out the standards companies should expect from themselves and each other.
Among other things, signatories of the so-called Industry Behaviours Charter are expected to be quick in the uptake of innovative new technologies, share information readily and commit to continuous improvement.
John Pearson, ETF leader and group president Northern Europe and CIS for Amec Foster Wheeler, acknowledged the wish-list alone would not solve the issues the industry faces, but can act as a "strong framework" for how firms must work together in future.
Visitors to the event at the Aberdeen Exhibition and Conference Centre were also given a chance to try out a pilot version of an electronic system that will let people share knowledge and have their say on the usefulness of efficiency measures.
Mr Pearson said the Rapid Efficiency Exchange is a "sector first" that will let companies promote what they are doing well and share problems the industry can tackle together.
Ms Michie said only time will tell how effective the task force will be, adding the measures it implements will only be successful if people are willing to support them.
She said: "Measuring behavioural change is challenging, but we can measure efficiency and we are seeing improvements coming through.
"Production efficiency is improving, production is increasing for the first time in a long time and costs are coming down."
She added: "We can't influence oil prices but we can influence the way business is done. Our emphasis is on positive working, putting aside cynicism and embracing the fact we need to do something different.
"We can ask all the right questions but we need people to pick it up and drive it forward. We are seeing momentum building but progress will be patchy at times."
Stephen Marcos Jones, OGUK's business development director, said: "Transforming the culture of our industry is the key to unlocking greater efficiency.
"In the next phase for the North Sea, we need to see a demand led supply chain, a new constructive dialogue between operators and suppliers – crucially, suppliers must be part of the solution."