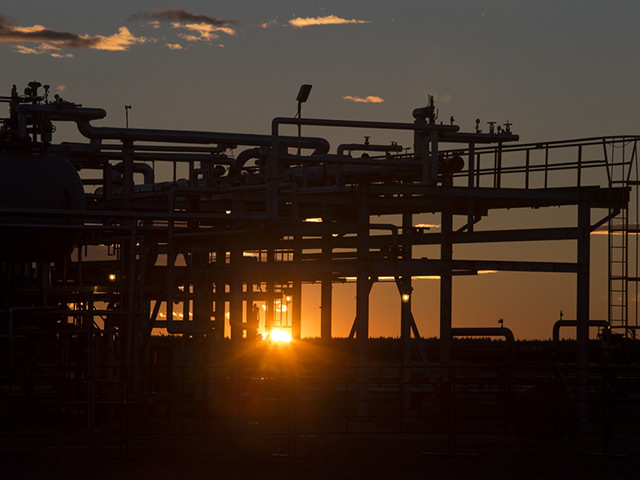 Apache Corp.'s rejection of a takeover offer from Anadarko Petroleum Corp. leaves both energy explorers vulnerable to acquisition.
Anadarko, the third-largest US natural gas producer, said it withdrew an all-stock offer after Apache refused to engage in substantive talks. Apache, one of the biggest leaseholders in the largest US shale play, slumped 7.3 percent, the most in nearly a year. Anadarko dropped 3.8 percent, wiping out $1.2 billion in market value.
For Anadarko, an acquisition of the $20 billion company would have served as a defense from any potential suitors. Major oil companies including Royal Dutch Shell Plc and Exxon Mobil Corp., which have a half-trillion dollars in cash and shares to fund takeovers, are seen as likely to approach beaten-down US independent producers.
"Now, the two companies are obvious takeover targets," John Kilduff, a partner at Again Capital LLC, a New York-based hedge fund, said by phone. "Shell is out on the hunt and Exxon Mobil has the cash. The majors are the companies to look at."
Shell's appetite for fresh deals may be moderated by the fact it's the largest global oil producer to do a big deal since prices started tumbling last year. In April, Shell announced a $67 billion share and cash offer for UK rival BG Group Plc, the industry's biggest acquisition in more than a decade.
The proposal for Apache included "a modest premium," Anadarko Chairman and Chief Executive Al Walker said in a statement Wednesday. "We are unwilling to pursue the transaction without access to detailed non-public information, and based on our analysis, which shows that Apache appears to trade at or near full value currently, the offer was withdrawn."
Apache is still trading 3.6 percent above the closing price last week, after surging on news Sunday it had been approached by a buyer. Apache is working with Goldman Sachs Group Inc. to advise on its options, according to people familiar with the matter, who asked not to be identified because the matter is private.
Shares in both Apache and Anadarko have been pummeled in the past year as a global glut has depressed energy prices. Apache is one of the biggest leaseholders in the Permian Basin in western Texas, the only shale area where oil output has continued to grow even as drillers slash spending and idle rigs.
"Anadarko apparently offered a very small premium, which isn't going to endear the deal to Apache shareholders," Fadel Gheit, an analyst at Oppenheimer & Co. in New York, said by phone. "If this is a good deal they should have offered more."
By making the unsuccessful bid public, Anadarko may be trying to increase pressure on Apache's board to consider a sale.
"When you have a good balance sheet, why be in a rush to sell the company with oil prices in the low $40s?" Leo Mariani, an oil and gas analyst with RBC Capital Markets, said by phone from Austin. "This was a classic example of someone trying to take advantage of a weak stock price in the market and try to steal something on the cheap."
Hostile deals for upstream companies are rare because much of the value is tied to untapped reserves of oil and gas, and most information about those reserves isn't public, said Subash Chandra, an analyst at Guggenheim Securities in New York.
"Apache has assets in multiple basins, domestic and international," Chandra said. "I just don't think you can go hostile. Without cooperation, there's not a way forward."
In pursuing Apache, Anadarko would have acquired a portfolio of fields that contain a higher proportion of crude than its own. Apache's output is more than 50 percent oil, compared with just 38 percent at Anadarko.
Anadarko, which operates from Mozambique to Wyoming, saw its exploration failure rate double last year; 14 percent of the wells the company drilled in its search for untapped fields were dry holes, up from about 7 percent in 2013 and 4.7 percent in 2012. Its shares have fallen 11 percent this week.
"When I think of really choice assets that are not easily replicable, I think of Anadarko," Chandra said. "Anadarko has a lot of long-lived, unbooked potential. Looking forward, that's what creates value, that's where you get the big premium."