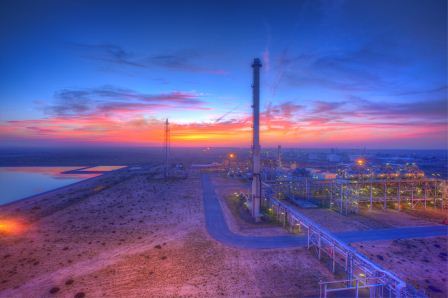 Dana Gas PJSC, the United Arab Emirates- based energy company operating mostly in Egypt and Iraq, expects low oil prices to remain a challenge into next year after the company reported a quarterly loss.
"The business environment has been difficult for the whole of the petroleum sector over the course of this year and it appears that it will continue to remain difficult during 2016," Chief Executive Officer Patrick Allman-Ward said on a conference call. "We do expect our next quarter to be similarly financially challenged."
Dana Gas, based in Sharjah in the U.A.E., posted a third- quarter loss of 28 million dirhams ($7.6 million) compared with a profit of 139 million dirhams in the same period of 2014, it said in a statement to the Abu Dhabi stock exchange. Revenue fell to 341 million dirhams from 638 million dirhams.
Oil companies have been cutting spending globally as crude prices dropped by more than 40 percent in the past year, denting profitability and making some of the more expensive exploration and production uneconomical. The Organization of Petroleum Exporting Countries maintained its output target of 30 million barrels a day at meetings in June and last December even as prices fell amid a glut of supply. The group is set to meet next month in Vienna to discuss markets and production.
Shares slump
Dana Gas shares fell 7 percent to 40 fils, at 11:33 a.m. in Abu Dhabi. That's the biggest decline in percentage terms since Aug. 23, according to data compiled by Bloomberg.
The company will cut operating expenses by about 10 to 20 percent a year, as it has since 2013, to conserve cash amid expected low oil prices, Allman-Ward said. General and administrative costs will be cut by about 55 percent, he said. The company is still in discussion with Egypt about planned investments and capital expenses on field developments there, he said.
Dana Gas is still seeking to recover more than $1 billion in payments for past production in Egypt and the Kurdish region of Iraq. The amount it's owed in Egypt rose by $19 million to $252 million at the end of September and payments outstanding from the Kurdish Regional Government increased by $58 million to $804 million.
"Our receivables position remains a major area of concern," Allman-Ward said. It could take the company until 2019 to recover amounts overdue from Egypt, he said.
The company last year agreed with Egypt on a plan to use proceeds from the export of condensate and liquid petroleum gas from its fields there for the country to repay the outstanding amounts. That plan will take more time now, given the lower price of crude and related products, Allman-Ward said. Dana Gas previously said it would receive all its overdue payments from Egypt by the end of 2018.