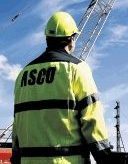 A former employee of north-east oil and gas services giant Asco fears being jailed in Oman next week over a contract payment dispute.
Chris Clark, who was the firm's country director in Oman for five years, will be in court in the Gulf state on Tuesday after an arrest warrant was issued.
Another former executive of Asco, Euan Lockhart who lived in Aberdeen for three years and is currently based in Dubai, is also subject to the warrant but it is not thought he will attend the hearing on Tuesday. Mr Lockhart, who was the chief executive of Asco's Middle East and Africa business, was not available for comment.
Oman-based Mr Clark was arrested two weeks ago and released pending the court hearing and is subject to a travel ban.
A company called Hamdan Trading, one of the largest corporate conglomerates in the Sultanate, took court action against Asco in December 2014 over an outstanding payment thought to be worth 125,000 Omani rials, equivalent to about £220,000.
The company claims it was not aware of the hearing in December but that it would defend its former employees "vigorously".
In a statement Asco said: "An arrest warrant was sought by an Omani supplier following a commercial dispute re the delivery of services in Oman.
"The decree was issued in late 2014 at a hearing where we were not represented. We did not become aware of this, or the recently issued warrant, until very recently.
"The warrant was for the arrest of two people who were employed by us at the time. They are no longer employed by us.
"Neither has been arrested. An Omani court is hearing the case next Tuesday.
"We are in negotiation with the supplier re the underlying commercial dispute and are defending ourselves and our ex-employees vigorously."
Speaking from Oman Mr Clark said: "If I go to jail I'm likely to spend some considerable time there because it is not like the UK. It can take many months.
"If Asco were to pay the money, the arrest warrant would be lifted."
Mr Clark, originally from Buckinghamshire, is being represented by a lawyer who is also representing Asco in the case.
Recommended for you
X

Offshore Achievement Awards 2016: Innovation and cost efficiency key to the future