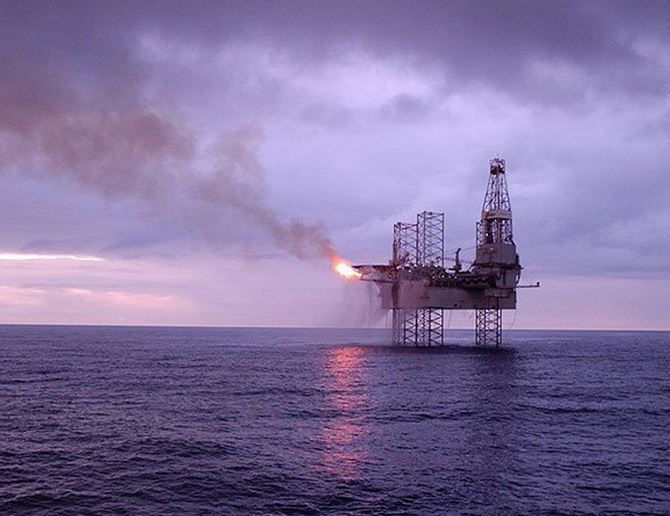 Leaders in business, education and the public sector have teamed up to secure the north-east's post-oil future, backed by a £50million funding pot.
Sir Ian Wood has donated £25million to the newly formed Opportunity North East (One) group, with the remainder coming from Scottish Enterprise and other sources.
Yesterday, Sir Ian launched the initiative and said he hoped it would stop Aberdeen becoming a "museum" as North Sea oil dries up in the years to come.
He believes the city and shire can enjoy a "renaissance" – saving tens of thousands of jobs – through action taken now to offset inevitable decline in offshore energy industry.
Sir Ian – whose efforts to invigorate the North Sea industry after stepping down as chairman of energy service giant Wood Group have focused minds on the need for collaboration to reduce inflated operating costs – is backing One with £25million from his charity, the Wood Foundation.
It is expected to benefit from a further £25million of co-investment from Scottish Enterprise (SE) and other public and private sector sources.
One is already signed up as the private sector partner for the north-east's £2.9billion City Region deal, which could help to unlock many more billions of pounds of investment for the area.
Sir Ian said the new body would play a key role in maximising the economic recovery of oil and gas.
And its work supporting energy industry supply chain expertise would help to anchor it in the area for generations, he added.
But the body is looking to support the region's long-term prosperity by also reducing the local economy's reliance, particularly in Aberdeen, on what happens in the North Sea.
Sir Ian said under-investment in infrastructure, a high cost of living and an economy dominated by oil and gas have combined to present the north-east with a major challenge.
"The current downturn in oil and gas has cast the issues we face into even sharper relief and there are essentially two routes ahead," he said.
"A renaissance which sees us revitalise the region's economy or a slow decline towards becoming a museum for the golden age of North Sea oil and gas.
"The business community is increasingly aware of the bleak prospect that could face us if we don't get our act together now and take concerted action to secure a sustainable and balanced economy in the future.
"One will, therefore, target its actions on sector-specific projects of scale – leveraging additional resources from the public and private sectors – which will realise the greatest returns for the region in the future, in terms of economic growth and employment."
A high profile leadership team will oversee the work of four key sector boards – covering oil and gas, food/drink and agriculture, life sciences and tourism – as it goes about trying to move the region on to a more balanced economy.
It will provide co-funding and resources to help grow and promote these four industries and aims to bring "high-impact" projects to fruition in partnership with the public and private sectors.
The new body will focus on investment and action to stimulate economic growth, safeguard jobs and create new employment opportunities over the medium to long term.
A "sector-specific and outcome-focused agenda" aims to complement and where appropriate support investment proposals within the City Region Deal, including an oil and gas technology centre, improved sea and air links, significant city centre improvements, extended leisure and recreation facilities and major upgrades to digital and wider physical infrastructure.
The chief executive of the newly formed One group said last night that the north-east economy was at a "pivotal point" in terms of its future direction – and that now is the time to act.
Jennifer Craw is the former chief executive of Scottish Enterprise Grampian, and is currently an executive advisor to Sir Ian.
"One aims to capitalise on the energy and drive that has characterised the region's successes to date and invest in projects of scale that will grow our key business sectors in the future," she said.
"We recognise the challenges that the region faces but the opportunities ahead are also very exciting. There is a real opportunity now to positively influence the future of the north-east."
Martin Gilbert, who heads up Aberdeen Asset Management and is on the One economic leadership board, said: "Aberdeen has made a tremendous contribution to Scotland's economy over the last 40 years.
"I'm looking forward to playing my part in helping to accelerate long-term growth for the region."
Also on the board is Aberdeen University principal and vice-chancellor Sir Ian Diamond, who said the group was "really exciting".
"It is a real opportunity to get the private sector, public sector and higher education in the same room to discuss strategy and how we can take forward economic development," he said.
"It is also entirely complementary to the City Region Deal. One can play a very important part in ensuring its lofty ideals are achieved."
The Robert Gordon University's principal and vice-chancellor Ferdinand von Prondzynski, also in One's top team, said: "We need to connect the universities with industry, to ensure that the region has high value skills at its disposal and ambitious research and development in key industries.
"One is a vital initiative to help bring this about, and more generally to ensure that we have a robust economy with an innovative oil and gas industry, and significant growth in other industry sectors."
One of One's key aims is to prepare the region for a future beyond oil by supporting other sectors.
Alongside efforts to keep oil and gas flowing for as long as possible and retain the vast skills base developed around that particular industry, One is also focusing on food/drink and agriculture, life sciences and tourism as critical for "balancing" the economy.
Four separate sector boards will operate under the umbrella of the body.
Patrick Machray , chairman of One Food, Drink and Agriculture, said: "North-east Scotland has a thriving food, drink and agricultural sector, with 3,000 companies supporting 16,000 jobs and generating annual revenues of £1.1billion.
"There is the potential to double current revenues and capitalise on compelling opportunities for growth through new collaborations between industry, the James Hutton and Rowett Institutes and our universities in fields such as provenance, health and well-being."
Professor Stephen Logan, chairman of One Life Sciences, said: "Expanding our bio-pharmaceutical hub on the Foresterhill Campus could create a leading centre for research, development and commercialisation, leading to more innovative companies and products.
"We are much stronger in life sciences than people think. We are home to four out of five of the Scottish companies with therapeutics in advanced stages of clinical trials.
"More than 20% of the total Scottish employment in bio-tech research and development is based in Aberdeen and almost £250million in research funding has been attracted in medicine and health."
One Tourism chairman Colin Crosby said: "This sector accounts for 1,200 tourist businesses and 13% of Scotland's tourism turnover.
"While we are currently heavily dependent on business tourism, we see significant potential to develop the region as a leisure destination and we welcome the opportunity to work with One on a joined-up strategy to invest in and bolster our sector."
One Oil and Gas will be chaired by Sir Ian Wood, while Oil and Gas UK chief executive Deirdre Michie is also in the new body's top team.
She said: "One is an important initiative that will help attract investment to the north-east of Scotland, strengthening key business sectors and underpinning jobs not just in the region but beyond.
"I very much welcome the bringing together of people and organisations with a vested interest in this part of the world."