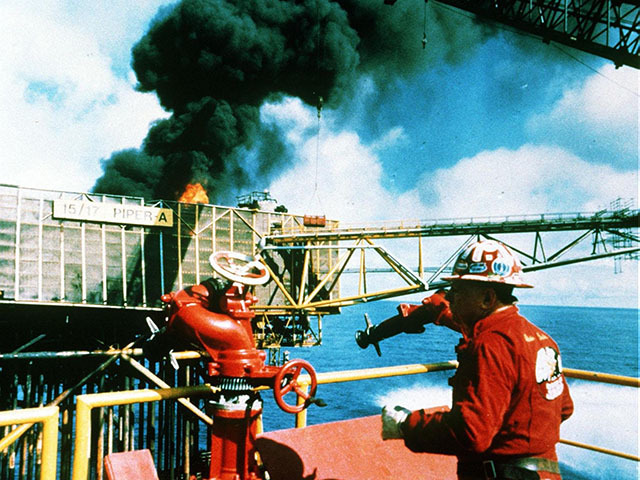 North Sea "hellfighters" aim to fight doom and gloom in the oil and gas industry.
The new networking group is named Hellfighters after the 1968 starring John Wayne about a team of oil well firefighters, based loosely on the life of Red Adair.
Meetings arranged through social media are held at the Urban Village Resort in the Prime Four business park at Kingswells in Aberdeen.
The duo behind the idea are Granite City-based business presentation skills expert Thor Holt and Ross Jolly, who previously founded the Aberdeen Young Professionals networking group, runs his own consultancy and oversees the recruitment for the drilling subsurface team at Apache North Sea.
Mr Holt said Hellfighters was "a positive response to the current and future even tougher market situation" facing people either working or made redundant in the oil and gas industry.
He added: "Surely it doesn't have to be all doom and gloom? Not for those willing to get up and fight.
"The energy industry has been good to me over the years, so we've launched something we believe can help in a small way.
"Hellfighters is a select group of like-minded and committed oil and gas folk working together to share business and job-winning ideas, encourage each other, problem solve and yes even to socialise over good quality coffee, but in a structured and constructive way."
Mr Jolly said: "We are just looking to share a bit of positivity within the current market.
"Our first couple of meetings were a huge success, involving some people who have been made redundant and others wondering how their business can grow over the next few years.
"This has generated a lot of interest. People are genuinely surprised by the shared issues they face together.
"By getting people around the table to discuss these issues they can, hopefully, help each other to move forward."
There are already plans to set up Hellfighter groups in other oil capitals, such as Houston in the US, Calgary in Canada and Perth in Australia as the global energy industry reels from the impact of lower crude prices.
Tens of thousands of jobs have been shed worldwide, including many in the north-east, as firms readjust to the new trading climate.
Recommended for you

Oil and gas dealmakers row against the tide