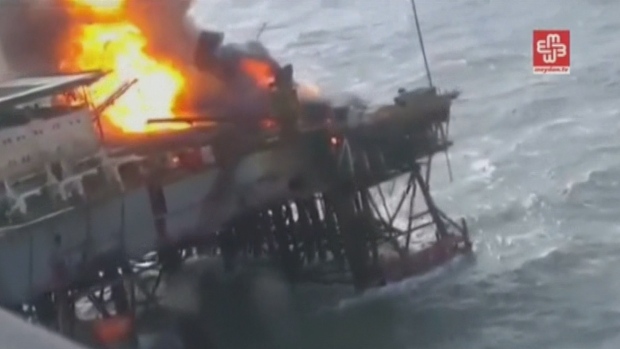 An oil worker died and 30 were missing in Azerbaijan after an offshore platform caught fire, the State Oil Co. of Azerbaijan said in a statement.
The fire at the Guneshli field in Azerbaijan's section of the western Caspian Sea started Friday and was caused by a gas leak following a storm, the Baku-based company said on Saturday.
Thirty-two people were rescued, it said.
The 30 people missing are presumed to have died, said an official for the company known as Socar, who asked not to be identified because of policy. Firefighters battled Saturday to control the fire, which is the deadliest incident in the company's history, he said.
The oil workers went missing when one of two lifeboats capsized several hours after the fire broke out at 5:40 p.m. local time, the Ministry of Emergencies and Prosecutor General's Office said in a joint statement. Rescue efforts were suspended because of the storm and darkness, and resumed only after the dawn, they said.
President Ilham Aliyev established a state commission headed by First Deputy Prime Minister Yaqub Eyyubov to investigate the incident, state news agency Azartac reported.
Socar is owned by the state of Azerbaijan, the largest oil producer in the former Soviet Union after Russia and Kazakhstan.
The company lost five workers in 2013 and 14 last year in similar accidents, said Mirvari Qahramanli, head of the Center for Protection of Oil Workers' Rights, a Baku-based advocacy group.
Recommended for you

Four missing after wind farm vessel partially capsizes off China