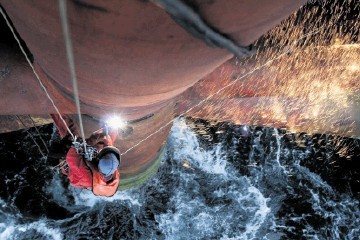 Fluor Corporation has agreed to buy engineering services firm Stork for $755million.
Dallas-based Fluor said it would buy the Dutch firm from its private equity owner Arle Capital.
The deal offers around seven times Stork's annual earnings before interest, taxes, depreciation and amortisation (EBITDA) of $109 million, the companies said.
Stork, which employs around 15,000 people worldwide, provides maintenance, modification and asset integrity services in the oil and gas, chemicals, petrochemicals, industrial and power markets, with operations in the North Sea, Europe, Middle East, Asia and the United States.
It acquired Aberdeen-based RBG in 2010 for £870million.
"The acquisition of Stork is consistent with Fluor's goal to further enhance our integrated solutions capabilities in thoughtful, strategic ways that will increase the value we deliver to our clients and shareholders," said Fluor's chairman and chief executive David Seaton.
"We are pleased to welcome Stork's talented workforce of more than 15,000 employees, which will provide us with additional flexibility and capacity to increase our maintenance and direct construction activities.
"Stork is highly complementary to Fluor as it gives both businesses the opportunity to market diverse services and capabilities to new customers and across new geographies."
"Stork's business is largely driven by ongoing operating budgets and is therefore less impacted by volatile commodity prices. In addition, Stork's continuous site presence will help us improve our ability to meet our customers' needs throughout the full lifecycle of an operating plant, and provide Fluor with an ongoing earnings stream and robust growth opportunities," Seaton added.
Stork chief executive Arnold Steenbakker, said: "We are very proud that a world-class company like Fluor recognises Stork's strong reputation, capable workforce and performance as a global industrial services provider.
"The combination will create new opportunities to expand our global footprint and deepen the product and services offering to our customers. Stork's activities are complementary to those of Fluor and the combination will create a global leader in the industrial services business."
Fluor will begin combining Fluor's operations and maintenance organisation with Stork, once the deal is complete.
Steenbakker, will lead the combined group and report directly to Seaton.
The management team will be formed by Stork's existing management combined with the managers of Fluor's Operations and Maintenance business. The combined group, branded Stork and headquartered in the Netherlands, will have an annual turnover of approximately $2.3 billion and a total of approximately 19,000 employees.
Fluor said it expects to achieve significant synergies including increased revenues from cross-selling and expansion into new markets.