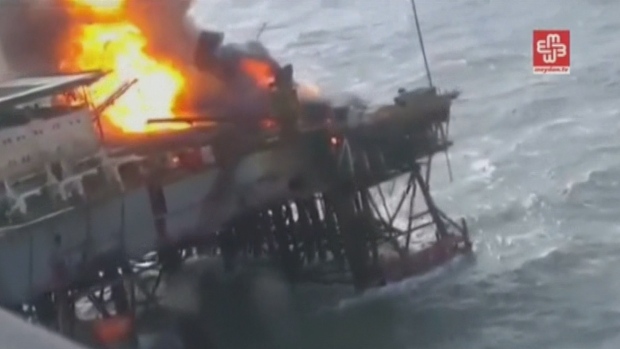 The confirmed death toll after a fire swept through an offshore oil platform in Azerbaijan has increased to seven.
The bodies of six of the 29 workers missing after the fire have been recovered, Azerbaijan's state oil company, Socar, said.
The 23 still missing are also presumed dead. They were trying to evacuate the burning oil platform and were in a lifeboat that toppled into the Caspian Sea during a storm on Friday.
One body was recovered on Friday night, while 33 other workers were rescued, most from a second lifeboat.
Balamirza Alirahimov, the chief engineer of Socar subsidiary Azneft, told journalists that seven bodies have now been recovered and the search is continuing.
The platform caught fire when an underwater gas pipeline was damaged in the heavy seas. It burned throughout the weekend.