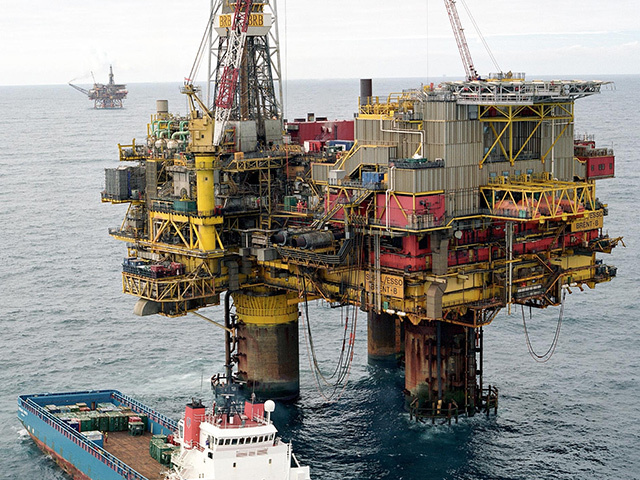 Shell is considering the option of leaving the massive subsea concrete jackets for its Brent platforms in place, as removing the 300,000 tonne structures may be more hazardous than leaving them where they are.
The oil company is currently working on the process of removing the topsides from the Brent Alpha, Bravo, Delta platforms.
How best to deal with the 160m tall subsea concrete legs of Bravo, Charlie and Delta (Alpha is a steel jacket) is the subject of protracted discussions between the oil giant, the Department of Energy and Climate Change and various other stakeholders, NGOs and environmental groups including Greenpeace.
The spectre of Brent Spar, which was occupied by environmental protestors 20 years ago and was a public relations disaster for Shell, is likely to loom large in the company's thinking.
Shell said it was "considering a range of options" at present and that disussions with stakeholders was "ongoing".
The company is understood to be trying to persuade DECC officials to allow it to opt-out from the international regulations that stipulate operators must remove every part of a platform when it is time to decommission.
The regulations were brought in following the Brent Spar "battle" when Greenpeace demonstrators managed to occupy Brent Spar for more than three weeks in 1995 and led to Shell towing the installation to shore before being broken up.
The removal of the Brent giants poses a far greater engineering and logisitical challenge, given that the installations were never designed to be refloated, unlike latter platforms.
"We have spoken with 400 stakholders and produced 300 reports so far in relations to the Brent decommissioning process," said a Shell spokeswoman. "We continue to consider a range of options and are in ongoing discussions regarding the subsea structures and we are considering a range of options."
"Reports have indicated that the marine life has adapted to the platforms over the best part of 40 years. We are looking all the available information. Our priority it to ensure that whatever approach is taken, it will be the best one," she added.
"Brent Spar does play on our mind," said a Shell source. "The best solution back in the 90s was to have abandoned the spar in deepwater. Taking it onshore was riskier and much more expensive. The Brent structures are enormous, it would be a huge task to take these onshore to be broken up."
The Ospar rules – of which the UK is a signatory – state that companies must remove every part of the oil installation. Other companies, such as Total and ConocoPhillips have secured opt outs for platforms in the past.
Shell is part of a working group of oil companies funding a study that is looking the impact of leaving structures in place and a report is due after 2017.
The Brent Field was discovered off the north-east coast of Scotland in 1971. Since production began in 1976, it has been one of the world's largest oil and gas producers.