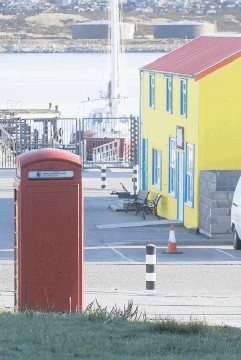 The election of a new Argentine president is an opportunity to develop a "more mature relationship" with Buenos Aires over the Falkland Islands, David Cameron has told the territory in a Christmas message.
But he insisted the UK remained "immovable" in its support for the islanders' right to choose to remain British.
Mauricio Macri took power this month with a promise to develop friendlier relations after the repeated diplomatic clashes that were a feature of the eight-year rule of Cristina Kirchner.
He is not expected however to drop his country's claim of sovereignty over what it calls Las Malvinas despite islanders voting 99.8% to remain British in a referendum in 2013.
"It's my hope that the election of a new Argentine president will allow us to move towards a more mature relationship," Mr Cameron wrote in his annual missive.
"It's clear that there are many areas on which co-operation could be of mutual benefit.
"I've spoken myself with President Macri, and while I am eager to improve Argentine relations, for the benefit of all, I am clear that this does not and will not change my Government's position on your right to self-determination.
"On this we are immovable."
Ministers would also "lobby hard" over the Falklands' rights to benefit from new discoveries of oil off its coasts, an issue which has already proved hugely controversial with Argentina.
Mr Cameron praised the islanders for the "sensitivity and compassion" they showed the 347 passengers and crew who had to be evacuated last month from the cruise ship La Boreal because of an engine fire.
"You should be proud that people from 25 different countries left as friends of the Islands, with good memories of a warm and welcoming people," he said.
He said he was also "heartened" by their offers to take in Syrian refugees.
The PM said work to clear the islands of mines planted by invading Argentine forces in 1982 would be extended from the populated areas around Stanley to "more environmentally and logistically challenging areas further afield".
"Looking to the future, 2016 will doubtless be another year full of opportunity for the Falkland Islands," he signed off. "So as this year comes to a close, Samantha and I wish you all the very best, and hope you have a very Merry Christmas and a Happy New Year."