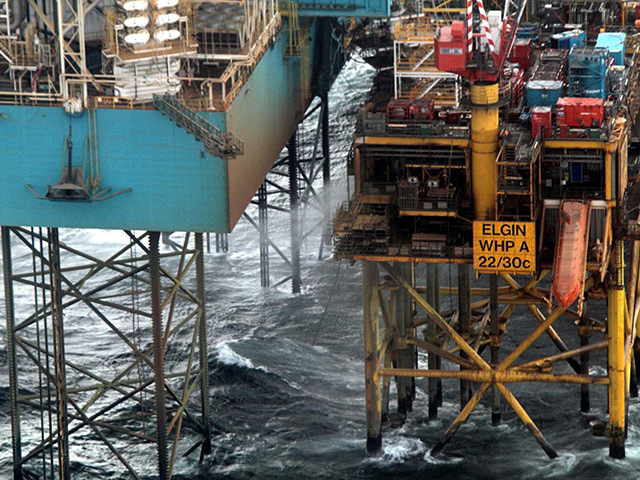 An offshore union has branded the fine imposed on Total yesterday a "wholly inadequate slap on the wrist".
Mick Cash, general secretary at the RMT union, said the French offshore giant would "write the fine off" like "petty cash".
Yesterday the Health and Safety Executive said it was the largest fine imposed by a sheriff court over health and safety breaches.
Total was fined £1,125,000 for breaching offshore regulations which led to a major gas leak on one of its North Sea installations.
In March 2012, all 238 workers on board the Elgin platform had to be evacuated as gas started spewing out of the G4 well at the rate of two tonnes an hour.
At one point, about seven million cubic feet of gas was leaking from the platform every day.
Mr Cash said: "For a giant global player like Total this fine can be written off as petty cash and a minor inconvenience and does nothing to hold the senior management of the company to real and genuine corporate account."
WWF Scotland director Lang Banks said: "The gas leak at the Elgin platform endangered lives, cost the company millions and added to climate change.
"It's therefore good to see a fine that reflects he seriousness of he incident. Hopefully the outcome of this case will send out a clear message to the rest of the oil and gas industry to massively improve safety procedures."
Aberdeen Sheriff Court heard yesterday that no damage was caused to the environment as a result of the leak.
Earlier this year, former Total boss Philippe Guys spoke exclusively to Energy Voice about the leak.
Guys was just a few months into his new post as managing director when news of the Elgin platform leak broke.
"I was in Paris and I will always remember that," he said.
"I was eating with my wife at home and we were finishing lunch when I got call from the duty engineer telling me that there had been a gas release. I just jumped up and took the first flight to Aberdeen. I reached Aberdeen in the evening alongside the crisis team."