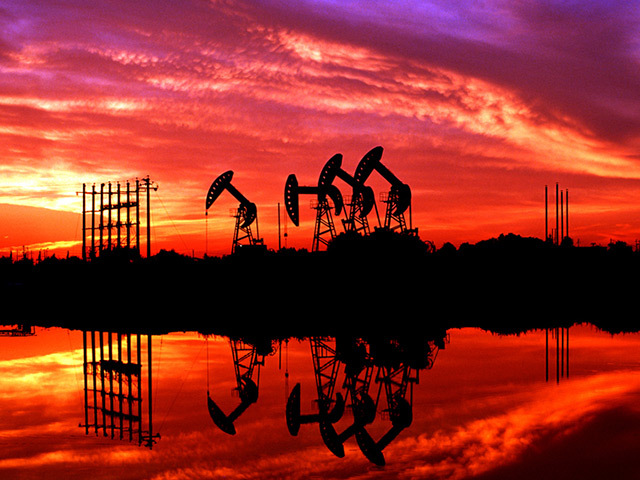 Turmoil in China's markets is pushing oil closer to $30 a barrel.
Futures slid as much as 4.3 percent in London on concern the economic slowdown in the world's biggest commodity consumer is worsening. China's central bank reduced the onshore yuan's fixing to the lowest since March 2011, triggering a selloff that led to the closure of Chinese stock exchanges. Brent oil will slump to $30 in the next 10 days, according Nomura Holdings Inc., while UBS Group AG sees an oversupply pushing prices even lower.
"The market trades on greed and fear, and right now fear dominates greed," said Gordon Kwan, a Hong Kong-based analyst at Nomura. "Commodity futures markets are always forward looking, and they fear that the depreciation of the yuan foreshadows further weakness in the Chinese economy."
Oil in London declined for a third year in 2015 as the Organization of Petroleum Exporting Countries effectively abandoned output limits amid a global glut. Stockpiles at Cushing, Oklahoma, the delivery point for U.S. benchmark crude, rose to a record while nationwide stockpiles remain about 100 million barrels above the five-year average, according to Energy Information Administration data.
Brent for February settlement fell as much as $1.48 to $32.75 a barrel on the London-based ICE Futures Europe exchange and was at $32.87 at 2:43 p.m. Hong Kong time. The contract dropped 6 percent to $34.23 on Wednesday, the lowest close since June 2004. The European benchmark was at a premium of 18 cents to West Texas Intermediate.
Chinese Demand
WTI for February delivery lost as much as $1.35, or 4 percent, to $32.62 a barrel. The contract slid 8.3 percent the previous three days to close at $33.97 on Wednesday, the lowest since December 2008. Total volume traded was more than triple the 100-day average.
The global economy will sputter along this year as China's slowdown prolongs a commodity slump, the World Bank said Wednesday. The Washington-based development bank lowered its forecast for 2016 growth to 2.9 percent, from a 3.3 percent projection in June, according to its bi-annual Global Economic Prospects report.
The People's Bank of China on Thursday reduced the yuan's fixing by 0.51 percent to 6.5646, the weakest since March 2011 and a reminder of the August cut that sparked financial-market turmoil. Trading on the CSI 300 Index was suspended after it plunged more than 7 percent.
Cushing Capacity
Energy companies led declines on the MSCI Asia-Pacific Index, which sank to a three-month low Thursday. PetroChina Co., the nation's biggest oil and gas producer, dropped as much as 5.7 percent in Hong Kong, while Woodside Petroleum Ltd. fell as much as 6 percent in Sydney.
"Clearly the economic concern is a factor, but that doesn't really explain everything," said Dominic Schnider, head of commodities and Asia-Pacific foreign exchange at UBS's wealth- management unit in Hong Kong. "There is a weak backdrop given that the market is oversupplied. If there is continued build in inventory, the market will not be pleased and if the market loses patience then the next step is a bit below $30."
Supplies at Cushing expanded for a ninth week to 63.9 million barrels, the longest run of gains since April, according to the EIA data released Wednesday. The hub has a working capacity of 73 million barrels. Nationwide stockpiles declined by 5.1 million barrels to 482.3 million.
Spot prices for Western Canadian Select fell as low as $19.81 a barrel on Wednesday, the lowest since tracking began in 2008, according to data compiled by Bloomberg. Producers in Canada are being cushioned somewhat by the country's weak currency, which has seen its value shrink along with crude. Most of the nation's output is exported and companies are paid in U.S. dollars.
Recommended for you

Market Wrap: Recession concerns push oil lower and whipsaw stocks