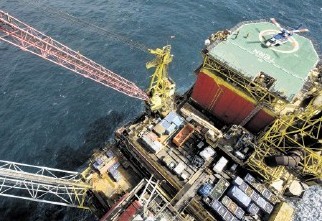 An investigation has been launched after a North Sea platform was left without a number of core personnel on board.
The operator of the platform,Taqa,said an internal investigation was underway to identify how the irregularities had occurred.
The incident, which happened last month on the Tern platform, is believed to have left the platform without a number of workers including a control room operator, medic and emergency response team.
It is understood the incident happened after a core crew left the platform before their back-to-back were able to make it on board on a separate helicopter.
Taqa said there "were some issues" with irregularities but said "key personnel" had been on board at all times.
A spokeswoman said: "We can confirm that there was an OIM in charge as well as key personnel on-board the Tern platform at all times on 22nd December, however there were some issues with
weather and logistics which caused some irregularities in relation to the crew change.
"There is an internal investigation underway into this matter so we are unable to comment further at this time."
According to reports, weather had been causing delays on the day of the incident and a replacement crew was still onshore in Sumburgh waiting for a flight to the platform when a decision was
taken by the on-shift crew to leave on the earlier helicopter.
The Tern platform is 310 miles from Aberdeen, with the Hudson field around 6.5miles to the west of Tern.
It is understood around 100 workers were on board the platform when it happened.
Earlier this week, Bilfinger Salamis said it was in consultation over jobs after Taqa made changes on some of its assets.
Recommended for you

Chris Cox and Curium Resources going after North Sea's untapped discoveries