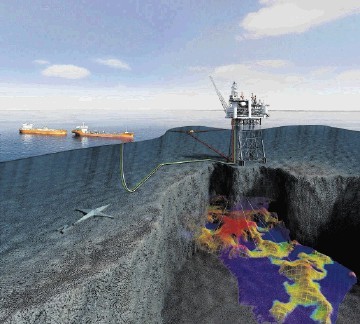 Oil's collapse has delayed $380billion worth of investment on 68 major upstream projects, according to industry consultant Wood Mackenzie Ltd.
The developments account for about 27 billion barrels of oil equivalent and about 2.9 million barrels a day of production is being deferred to early next decade, according to the Jan. 12 report. Deepwater projects will be hit the hardest and account for more than half of new project deferrals, it said.
Crude's price plunge has forced companies and governments to reduce costs as revenues from hydrocarbon sales plunge. BP Plc plans to cut 4,000 jobs, Petroleo Brasileiro SA slashed its spending plan and Malaysia's Petroliam Nasional Bhd. warned that it faces several tough years. State-owned Saudi Arabian Oil Co., the world's largest crude producer, is studying options for a share sale.
"Companies are going into survival mode in 2016," Angus Rodger, one of the report's authors, said by phone. "We expect to see further project deferments, reduced budgets and companies doing everything they can to reduce how much expenditure they have. As a consequence, we see this number growing through the year."
Brent crude, the benchmark for most of the world's oil, capped a third yearly decline in 2015 and has fallen to the lowest in more than a decade as the Organization of Petroleum Exporting Countries effectively abandons production limits amid a global glut. The grade dropped below $30 a barrel Wednesday for the first time since April 2004 amid speculation sanctions on Iran may be lifted by Monday, paving the way for increased oil exports.
Concern that prices will remain "lower for longer" is limiting confidence for new investments, according to the Wood Mackenzie report. The average break-even price of the delayed greenfield projects is $62 a barrel, according to the report.
Ed Morse, Citigroup Inc. managing director and global head of commodities research, said 11 months ago oil could fall as low as $20 and Goldman Sachs Group Inc. has given a 50 percent chance of crude hitting that level.