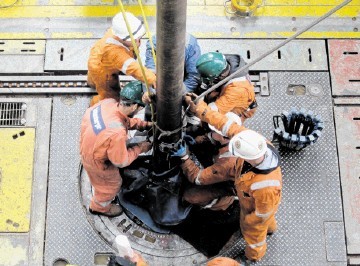 Norwegian oil and gas activity will continue despite investments expected to fall further in 2016 before seeing a moderate rebound from 2019 the Norwegian Petroleum Directorate (NPD) said today.
The NPD, in its report published today – The Shelf in 2015 – said significant remaining resources, combined with cost reductions and improved efficiency, can ensure continued high activity and future profitability.
More wells were drilled in 2015 than ever before. New wells and good regularity on the fields have delivered an increase in oil production for the second consecutive year, and it will remain high in the years to come, said the NPD. A new gas sales record was also set as a result of higher demand from Europe.
The authority sees investments – excluding exploration – falling to NK 135billion ($15.31 billion) in 2016 from close to NK150billion in 2015
"Even in a demanding year, it's good to see that the oil and gas industry is still the country's largest, with total export values reaching well over NOK 400 billion," said NPD director General Bente Nyland.
"It is also gratifying to see that the industry has invested substantial effort in increasing efficiency. This work is starting to materialise in the form of lower costs," added Nyland.
Eighty-two fields were in operation at the end of 2015, compared with 51 in 2005. This illustrated the enormous development activity that has taken place in recent years.
Fifty-six exploration wells were spudded; 11 discoveries were made in the North Sea, and six in the Norwegian Sea. However, most of these discoveries were minor.
More than half of the resources on the shelf have yet to be produced.
Nyland is concerned that sinking oil prices will mean that measures will not be implemented, and resources will be left in the ground.
"We see a tendency for the companies to prioritise short-term earnings rather than long-term value creation," says Nyland.
From a record level in 2013 and 2014, investments fell by about 16 per cent from 2014, to just under NK 150billion. They are expected to continue their decline going forward, followed by a moderate increase from 2019. The NPD estimates that investments will be well in excess of NK 200billion per year in the next few years.
The authorities approved four plans for development and operation (PDOs), compared with just one in 2014. These four have led to an increase in the reserves estimate on the Norwegian Shelf – despite the fact that around 230 million Sm3 oil equivalents of the reserves were produced.
Four new fields came on stream in 2015. Six fields are currently being developed in the North Sea, two in the Norwegian Sea and one in the Barents Sea. The NPD expects to receive development plans for three new fields this year.
"Activity will remain high in the years to come, in spite of the decline since 2014. Therefore, it is important that the companies make wise decisions and keep a long-term perspective," said Nyland.
The NPD said it expects the industry to make decisions that will secure these assets in the years to come, and that it accelerates efforts to implement measures that can reduce costs and boost efficiency, for example through the use of new technology.
"Reduced costs mean greater profitability. This can help pave the way and make it easier to develop more discoveries," said Nyland.
Recommended for you

Tories told to finally end the north-east's long wait for carbon capture cash