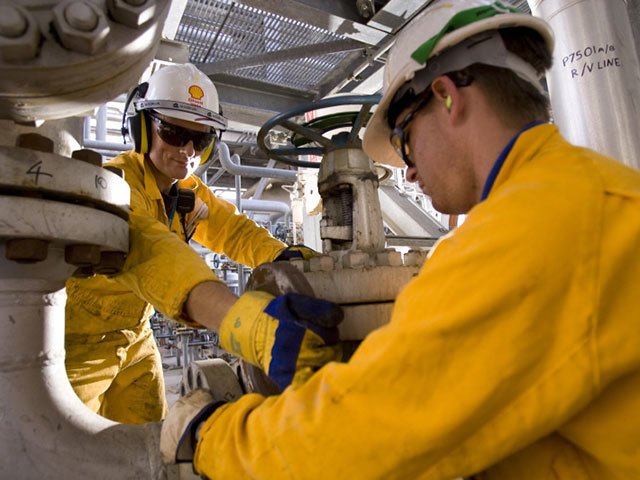 Shell's shares dropped 4% after the update amid wider falls on the London market as the oil price slump continues to hit stocks.
The slump in 2015 earnings comes after Shell said fourth quarter earnings are expected to nearly halve to between $1.6billion (£1.1billion) and $1.9billion (£1.3billion).
This is down from $3.26billion (£2.3billion) a year earlier and slightly below analyst expectations.
Despite the hit to earnings last year, chief executive, Ben van Beurden, said he was "pleased with Shell's operating performance in 2015, and the momentum in the company to reduce costs and to improve competitiveness".
The oil price rout has had a dramatic effect on Shell, with every $10 change in the price of crude having an impact of around $3billion (£2.1billion) in earnings.
The company has been slashing budgets in a bid to combat a lower oil price, including
It will report full-year results on February 4.
Van Beurden added the group has been slashing costs to bolster its bottom line, stripping out $4billion (£2.8 billion) from the business – around 10% – in 2015 and planning to cut a further $3billion (£2.1 billion) this year.
The business has already confirmed more than 10,000 jobs will be axed as part of the BG tie-up and it is planning to offload $30billion (£21.2billion) of assets.
Mr Van Beurden said: "Bold, strategic moves shape our industry."
But there have been growing investor fears over the deal following the recent hefty falls in oil prices amid over-supply and falling demand as the world economy slows.
The cost of crude slumped below $28 a barrel at one stage earlier this week.
Shell has priced its acquisition based on oil prices rising sharply from their current low levels – predicting a bounce back of more than 35% this year and further rises next year.
In a move to appease worried investors, Shell confirmed shareholders will share out $27billion (£19.1billion) in dividends for 2015 and 2016, with the group confirming payouts expected to total $1.88 (£1.33) a share for last year and at least the same for the year ahead if the BG deal completes.
The deal, which has already cleared the regulatory hurdles, requires the support of 50% of Shell shareholders and 75% of BG shareholders.
They will vote on January 27 and if the deal is given the green light, it is set to complete by February 15.
Recommended for you

Shell's storm damage pinches one-sixth of US gulf oil