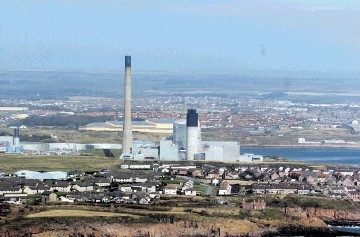 Experts on carbon capture and storage have attacked the UK Government's "shabby" last-minute decision to axe £1billion of funding for the technology.
David Cameron was warned the step reflected "very badly" on his regime's relationship with business and ability to drive long-term investment.
The prime minister also faced accusations it was a "fundamental change in government policy masquerading as a spending decision".
Plans to build a ground-breaking CCS plant at Peterhead ground to a halt following the news the competition for development money had been scrapped.
It was announced on the Stock Exchange on the same day as Chancellor George Osborne's spending review in November.
Yesterday, industry representatives described finding out – not from a minister but a Department for Energy and Climate Change (Decc) official – about an hour before the formal notification.
Former Scottish secretary Alistair Carmichael, who sits on the Commons energy and climate change committee which was hearing evidence, asked how they felt when the "death sentence" was pronounced.
Richard Simon-Lewis, financing director at developer Capture Power, said the news came as a huge disappointment, given the organisation had been working with Decc on the project for a number of years.
Chris Littlecott, who leads climate diplomacy and energy policy expert E3G's work on CCS, said the treatment of the project by the government was "shabby".
He added: "It reflects very badly on the UK Government's relationship with business and their ability to drive long-term investment.
"This was a fundamental change in government policy masquerading as a spending decision.
"The government appears now to not believe in its own energy policy."
He also said he would welcome the expansion of the regulator Oil and Gas Authority's remit to include CCS.
Luke Warren, chief executive at CCS Association, urged the government to publish a CCS strategy.
He said this was crucial to maintaining investors' interests, adding: "If there's not the will then the technology will not progress within the UK. It will progress elsewhere."
Northern isles MP Mr Carmichael said the evidence confirmed that energy policy now came from the Treasury rather than Decc.
He added: "The disastrous consequences of that are there for all to see.
"They have destroyed a growing renewables industry which is crucial for our future generations' ability to tackle climate change and which would have brought many jobs and opportunities to the Highlands and islands."
North-east Labour MSP Lewis Macdonald added: "If ever there was a case for a government U-turn, this is it.
"There's no point in David Cameron signing up to ambitious carbon reductions in Paris, then coming home and closing down the very projects that can deliver them."
Callum McCaig, the SNP's energy and climate change spokesman at Westminster, said the UK Government's decision had "hugely undermined" investor confidence.
He added: "As part of the Energy Bill currently going through parliament we will be pressing the UK Government to produce a strategy for CCS to provide clarity and undo some of the damage they have done to the sector."
A Decc spokesman said: "Our priority is to ensure that hardworking families and businesses have access to secure, affordable and clean energy supplies they can rely on.
"It remains the case that CCS has a potential role in the long-term decarbonisation of the UK."
Recommended for you

Young marketing minds challenged to create global climate change campaign