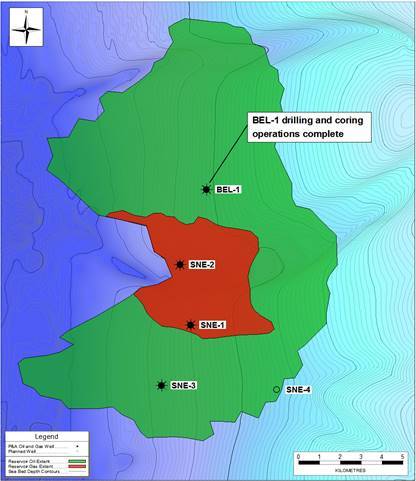 Cairn Energy said its Senegal drilling campaign continues to yield positive results.
The exploration firm was targeting the Bellatrix exploration prospect and appraising the northern extent of the SNE field discovered in 2014.
Two good quality gas-bearing sand reservoirs with a combined net thickness of 8 metres were encountered between the Bellatrix main objective and deeper SNE appraisal objective.
The appraisal target also confirmed multiple samples of gas, oil and water recovered to the surface.
Chief executive Cairn Energy said: "The drilling programme in Senegal continues to provide positive evidence of the scale and extent of the SNE field.
"The BEL-1 appraisal results have provided definitive information confirming the northern extent of the high quality reservoirs seen in the other wells and demonstrated an increased oil column in this area of the field.
"Operations have been safely and successfully completed and significant data gathered to help the joint venture partners establish the ultimate size of the significant resource base. The evaluation programme continues with the SNE-4 well."
Based on the positive campaign results to date, the joint venture agreed a fourth well location, SNE-4, which will commence operations shortly, located 5km south-east of the SNE-1 discovery well. It will appraise the eastern extent of the field and aiming to confirm the nature of the upper reservoirs in the oil zone.
Recommended for you

BP tipped to reach next Senegal FID this year