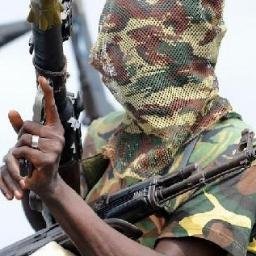 The Niger Delta Avengers (NDA) have attacked a Chevron oil facility, the Nigerian militant group said on Twitter on Wednesday.
"With the heavy presence of 100 Gunboats, 4 Warships and Jet Bombers NDA blew up Chevron Oil Well RMP 23 and RMP 24 3:44am this Morning" the group said in a tweet.
This was followed by another tweets: "RMP 24 and RMP 23 are Chevron Swamp Highest producing Wells [sic]".
The latest claimed attack, is part of an escalating campaign against oil majors. It blew up gas and crude pipelines belonging to Shell and Agip on Saturday.
The group said it used dynamite to blow-up the trunkline linking Shell's Bonny terminal to Agip's Brass export terminal. A local community leader Eke-Spiff Erempagamo confirmed the attack.
The group has told oil companies they must leave the Niger Delta by May 31.
On May 27 it warned: "Watch out something big is about to happen and it will shock the whole world."
An attack on Chevron's Okan platform in Delta state in early May forced the company to close the facility at a cost of a further 90,000 bpd.
Responding to the ongoing threat, both Shell and Chevron have evacuated non-essential staff from several facilities across the region.
The wave of attacks has seen Nigeria's oil production drop from 2.2million barrels a day to 1.4million barrels a day. The militants have demanded a greater share of the country's oil wealth. Their efforts have won support from some community leaders and non-violent activists.