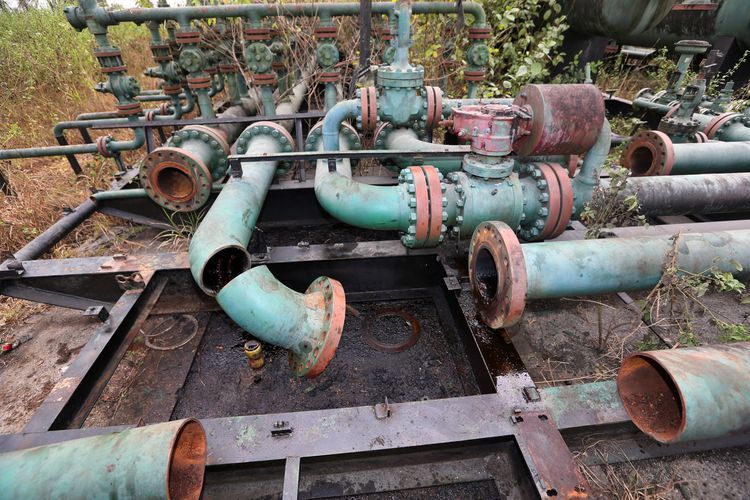 They sound like superheroes from a Marvel movie, but the Niger Delta Avengers are real and they're crippling Africa's largest economy.
The militant group burst onto Nigeria's political scene near the oil hub of Warri in February, shattering a seven-year peace with a campaign of pipeline sabotage that's ravaged crude output and starved a government already reeling from depressed prices of even more revenue.
Military checkpoints now clog the main arteries into and out of this sprawling metropolis of a million people, choking commerce just as thousands more arrive from surrounding villages in anticipation of a crackdown like the one in 2009 that left scores dead. With President Muhammadu Buhari's government ordering a manhunt for the popular former militant leader it blames for the attacks, Government Ekpemupolo, or Tompolo, locals who've lived through previous spasms of violence are bracing for a protracted conflict.
"The oil companies have evacuated personnel and suspended all work so we just have to wait for things to get back to normal, which may not be soon," said Famous Udu, 52, who lost his job overseeing pipelayers at a Chevron Corp. project in April and now drives a cab for a sixth of what he used to make.
Shell, Brexit
The Avengers say they want a greater share of the wealth that Chevron, Royal Dutch Shell Plc and other companies extract from their native lands to be spent on local schools, hospitals and other essential services. After Britain, Nigeria's former colonial ruler, voted to leave the European Union last month, the Avengers added a referendum on autonomy to their list of demands, which includes building a new university in Tompolo's hometown.
They're not alone.
At least a dozen other militias, some with no declared social agenda, have sprouted up in the mangroves and creeks that stretch to the Gulf of Guinea in the past six months, representing many of the competing minorities that populate the 70,000 square-kilometer region, an area almost as big as Ireland.
The latest insurgency started after Buhari, a Muslim from the north, defeated incumbent Goodluck Jonathan, a Christian from the delta, in last year's presidential election. Buhari, who ran on an anti-graft platform, ended the 2009 accord that Jonathan helped negotiate with the rebels, under which they were paid to protect pipelines instead of destroying them. Buhari then ordered the arrest of Tompolo, who some consider a folk hero, on corruption charges.
"It's not a mere coincidence that these attacks started after Tompolo was declared wanted," said Anyakwee Nsirimovu, who runs the Institute for Human Rights and Humanitarian Law in nearby Port Harcourt and has helped the government negotiate with militants. "It's a response to the current policy position of the present government. It's a fight back."
'Agitations,' Recession
The conflict is having an impact not only on the domestic economy, but also on the entire energy market. Nigerian crude exports, which account for two-thirds of state revenue, tumbled to a 27-year low in May, helping buoy global prices at a time when other producers declined to curb supplies.
After a blast damaged a key underwater pipeline, forcing Shell to shutter its massive Forcados terminal, national output briefly plunged below 1 million barrels a day, less than half of the 2.2 million barrels a day projected in the federal budget. Gas links, too, have been severed, compounding the economic malaise by idling power stations and preventing Buhari from fulfilling his pledge to end a long history of blackouts.
"The bulk of the problem of low revenue generation came from militant agitations in the Niger delta," the budget minister, Udoma Udo Udoma, told the parliament's appropriation committee in the capital Abuja on July 14.
Few places are feeling the financial pain more deeply than Warri, a former base for Dutch and Portugese slave traders now at the heart of an industry that transformed Nigeria into a commercial powerhouse. While renewed violence and weaker crude prices edge the country toward its first recession in three decades, businesses in the oil patch are already struggling to stay afloat.
Unknown Threat
Expatriates are leaving Warri in droves, hotel occupancy rates are at record lows and even non-energy companies are laying off workers, according to Chika Agbanelo, a manager at the once-bustling Kayriott Hotel.
"Every business is standing still," Agbanelo said.
The number of militant groups is rising because many of their members just want to benefit from any payoff the government may offer to end the violence, making it impossible to strike a deal, said Dan Ekpebide, a community leader who participated in the talks that the oil minister, Emmanuel Kachikwu, held with some rebels last month.
So many factions have emerged that officials aren't even sure what they're up against. Buhari told the committee he formed to initiate dialog with militants that its first task is to "try to know how many of them there are."
"Get in touch with their leadership to try to persuade them to please give Nigeria a chance," the president said July 9.
Fugitive, Inmate
When the oil industry started to displace fishing and farming decades ago, many youths joined gangs that fought turf wars to claim benefits from crude producers. In the mid-2000s, though, unlike now, charismatic leaders like Tompolo and Henry Okah emerged who were able to unite the disparate groups under the umbrella of the Movement for the Emancipation of the Niger Delta.
But soon after MEND agreed to the 2009 amnesty, Okah and his followers reneged and resumed their attacks, including a deadly car-bombing in Abuja for which Okah was arrested in South Africa and given a 15-year sentence.
"It will take people like Tompolo or Okah to provide firm leadership to these different groups and hold meaningful negotiations," said Chijioke Nwaozuzu, a professor of petroleum economics at the University of Port Harcourt. "But Tompolo is on the run and Okah is in jail."
One former militant who fought under Tompolo and honored the cease-fire, Pere Tariah, predicted the violence will continue until the government starts to take the financial and ecological demands being made by the Avengers and other armed groups seriously. Officials in Abuja, the unemployed diver said, only listen to the people of the delta when the oil stops flowing.
"Eighty percent of the oil fields are owned by northern Muslims who sit far away, enjoying their profits while we suffer pollution," said Tariah, 32. "That's why these attacks have started again. People here don't want things to continue this way."
Recommended for you

Oando finally audits 2020 results, sees theft spike in 2021