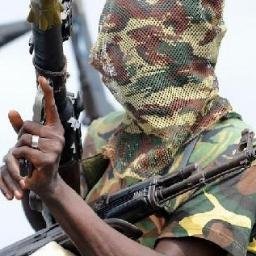 A Nigerian militant group has claimed responsibility for an attack on Thursday on a crude pipeline operated by state-firm NNPC in the Niger Delta.
The Niger Delta Greenland Justice Mandate said it bombed the Unenurhie-Evwreni delivery line in Ughelli, Delta state, in the early hours of Thursday morning.
The line is operated by NPDC, a subsidiary of NNPC.
Attacks on Nigeria's energy facilities by groups calling for the Delta region to receive a greater share of the OPEC member's oil wealth have cut crude production by a third.
According to a military source, dynamite was used to blow up the pipeline.
It comes days after the Niger Delta Avengers carried out their first attack since declaring a break in hostilities in August.
The Greenland Justice Mandate, which has never agreed to cease hostilities, said in a statement it had blown up the pipeline "to prove to the wicked and ungrateful multinational oil companies and their Nigerian military allies… that we own our lands".
Recommended for you

Brothers fighting fraud charges from India are flourishing in Nigeria