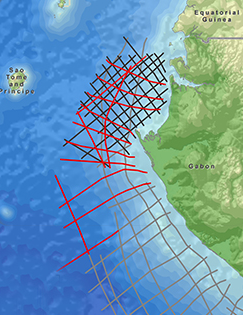 ION Geophysical has announced a new 2D multi-client program offshore Gabon, in cooperation with the Gabon Ministry of Petroleum and Hydrocarbons.
The EquatorSPAN II program will include over 1,900 kilometres of new seismic data.
ION venture group's senior vice president Joe Gagliardi said: "Deepwater oil exploration offshore West Africa has thrived over the last 20 years and this region remains an important component of many E&P companies' exploration portfolios.
"In conjunction with existing and planned BasinSPAN surveys in adjacent countries, EquatorSPAN II will enhance the knowledge of the entire basin."
The system will aid in understanding the geological conditions and basin evolution in the country to support future offshore licensing rounds.
The program will image the deep basin architecture, define the limits of the basins along the equatorial margin and identify potential petroleum systems.
It is the newest addition to ION's data library, which includes over 500,000 kilometres of 2D data and over 100,000 square kilometres of 3D data in exploration and production areas around the world.
Recommended for you

ION wins Kenya seismic ahead of licence round