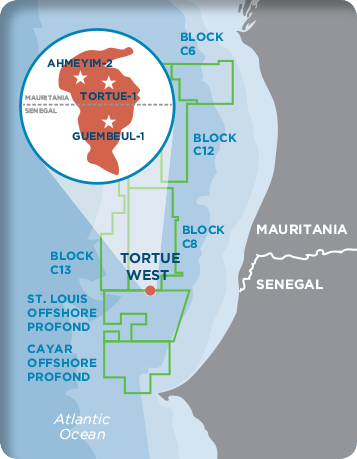 Kosmos Energy said today that tests on the Tortue-1 well prove that the discovery off West Africa is "world class".
Kosmos, a US firm which listed its shares in London earlier this week, said the well flowed at about 60million cubic feet (mmcf) per day, but is capable of producing 200mmcf.
The drill stem test data will be used to refine the front end engineering and design process, which is expected to begin later this year.
Kosmos chief executive Andrew Inglis said: "The positive results from the DST confirm that the Tortue field is a world-class resource and validates the assumptions that underpin our development concept.
"The combination of high well rates, large connected volume per well together with a gas well-suited for liquefaction is why we believe Tortue is one of the lowest cost pre-FID greenfield LNG projects. The Kosmos BP partnership remains aligned on delivering a final investment decision for the project in 2018 and first gas in 2021."
Kosmos holds 28% of Tortue, while BP has 62% and Societe Mauritanienne des Hydrocarbures et de Patrimoine Minier is on 10%.
Recommended for you

Kosmos completes FPSO sale to BP