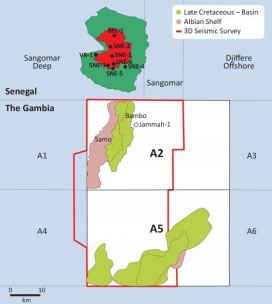 Petronas has entered into an agreement to acquire a 40% stake in FAR's A2 and A5 offshore licenses in Gambia, West Africa.
The Malaysian state-owned firm will be required under the agreement to provide 80% of well costs of up to $45 million (£32million) for drilling the lucrative Sambo-1 well.
Estimates carried out by Australian-headquartered FAR say Sambo has reserves of up to 825million barrels of oil, with drilling to commence in late 2018.
FAR will remain operator in the exploration phase and retain a 40% stake, with the remaining 20% going to partner Erin Energy.
Petronas will have the right to become operator for the development once the farm-out is finalised.
Managing director of FAR, Cath Norman, said: "This farm-out deal with Petronas is further recognition of the value of our Gambian licences and FAR's status as a partner of choice in the Mauritania-Senegal-Guinea-Bissau-Conakry Basin.
"FAR has built an enviable position in the basin and we look forward to drilling the Samo-1 well later this year. Success in this well would be of significant value to our shareholders and truly transformational for the people of The Gambia.
"Petronas brings world class technical and financial strength to our joint venture. PETRONAS also has significant deep-water development expertise in the event of a discovery.
"FAR welcomes Petronas to the Joint Venture and looks forward to a long and successful relationship.
"We again wish to acknowledge the cooperation and support of the Gambia Ministry of Petroleum and Energy, the Gambia National Petroleum Company (GNPC), the Government of the Gambia and our broader Gambian stakeholders as we jointly progress with our drilling preparations. This deal is further demonstration of The Gambia's credentials as an investment destination."
Recommended for you

Petronas scores oil discovery offshore Suriname