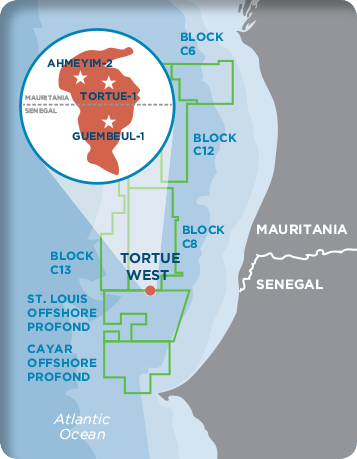 BP has selected US firms McDermott and Baker Hughes, A GE Company (BHGE) for the front-end engineering design (FEED) studies for its major Tortue/Ahmeyim development in West Africa.
"Substantial" contracts for engineering, procurement, construction and installation are likely to follow for the project, which straddles the maritime border of Senegal and Mauritania.
McDermott defines a substantial contract as between $500million (£360million) and $750million (£541million).
The Greater Tortue Complex is estimated to hold over 25 trillion cubic feet of gas.
McDermott and BHGE will collaborate on the FEED studies for an initial four-well development phase, which is expected to begin and complete this year.
There are four partners in the Tortue/ Ahmeyim development, including Kosmos Energy which made the discovery, and BP which is the operator and holds a 60% stake.
Kosmos has said it expects a final investment decision on the project this year, with first gas in 2021.
McDermott's vice president for Americas, Europe and Africa, Scott Munro, said: "We look forward to partnering again with BP on a significant project to support an efficient and streamlined process towards first gas.
""Building on our relationship with BP on Angelin, McDermott's focus on modernized project management and a collaborative approach will create a fully inclusive, open and transparent working environment for BP and major partners to ensure success.
"Our integrated approach with BHGE will bring the best total solution to BP that we believe will provide schedule and budget certainty."
Graham Gillies, vice president, subsea production systems and subsea services at BHGE said: "Increasingly, industry players are looking for commercially-innovative business models and integrated offerings that help reduce costs, while increasing efficiency and productivity.
"This is an excellent example of how the industry has evolved its approach, with global operators now embracing the benefits of early engagement with OEMs and service providers."
Recommended for you
X

'Total failure' to bring energy jobs to Dundee is 'one of Scotland's biggest scandals'