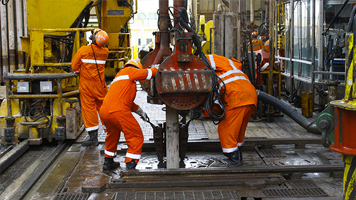 Reporting success in Egypt's Gulf of Suez, Eni has said it expects production to begin imminently.
The Sidri 36, an appraisal well on the Sidri South discovery, encountered 200 metres of hydrocarbons in the Nubia formation, the Italian company said. The well will be completed and brought into production within "the next few days", it said, with an initial flow rate of around 5,000 barrels per day.
The original discovery was expected to hold around 200 million barrels of oil in place, but Eni has said it would reassess this projection based on the appraisal well result.
The well was drilled on the Abu Rudeis Sidri development lease by Petrobel, which sees Eni team up with Egyptian General Petroleum Corp. (EGPC).
Eni said the speed with which it could press ahead with the development was a result of its "near field" focus. Combining new ways of thinking about plays and technology has allowed it to "re-evaluate areas where exploration was considered having reached a high level of maturity".
Petrobel is working on a rapid development plan, which will link in existing facilities and infrastructure. This could also see future activity in the area also connected to export facilities quickly. Although Eni did not provide specifics on its plans, it did imply delineation and development wells were under consideration.
The Sidri South 23 well was announced in July as a success in the pre-Miocene. This well had started up, Eni said in its statement, producing through existing facilities in the area. At that time, the company said Petrobel had plans for around 10 wells to develop the find.
Eni's major focus in Egypt has been offshore gas developments, following the Zohr discovery in August 2015. The company has a similar strategy of moving into production quickly in the offshore. It discovered the Baltim South West field in June 2016 and reached a final investment decision (FID) in January 2018. The field began producing 19 months after the plan was greenlit, in September.
Initial production from the Baltim South West field was 100 million cubic feet (2.83 million cubic metres) per day. There are plans for another five wells on the field, bringing it to 500 mmcf (14.16 mcm) per day in the second quarter of 2020. Baltim South West holds around 1 trillion cubic feet (28 bcm) and is adjacent to Nooros, which holds a further 2 tcf (56.6 bcm).
According to recent comments at an industry conference by Eni officials, production from the Zohr field is due to ramp up to 3 bcf (85 mcm) per day by the end of October.