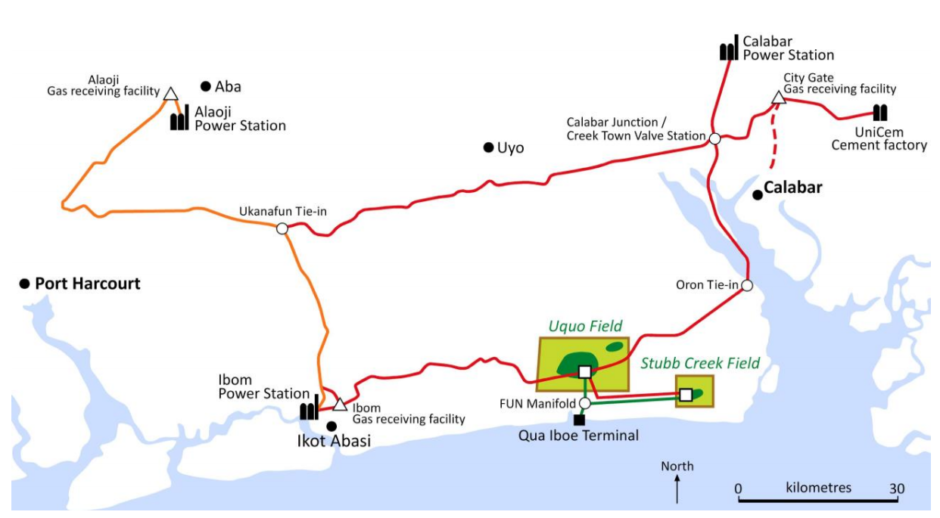 Savannah Petroleum expects to generate free cash flow of around $130 million per year from its recently acquired Nigerian assets, based on calculations from CGG Services.
Capital expenditure in 2020 will be around $41.5mn, largely directed to gas production at Uquo, with new demand coming from a power plant.
CGG published a competent persons report (CPR) on the Uquo and Stubb Creek fields, in addition to the Accugas midstream business. Savannah completed the acquisition of these assets from Seven Energy in mid-November.
The CPR put gross and net 2P reserves at the Nigerian assets at 99.6 million barrels of oil equivalent and 71mn boe respectively, with 2C resources of 98mn boe gross and 58.6mn boe net. The report also includes a net present value calculation of $1.2 billion, which includes the deferral of debottlenecking at Stubb Creek to 2020, from the previously planned 2021.
Production this year is 17,300 boepd gross to date, up by 33% year on year. Based on a projected cash collection from the Nigerian assets of around $190mn, debt should be reduced by $40mn. There will also be $15mn of cash held among the Nigerian assets.
Costs of production have fallen by around 18% from 2016 to 2019, Savannah's CEO Andrew Knott said. "We continue to view these assets as a strong platform from which we will deliver further growth. In this regard, we continue to make good progress in relation to the supply of gas to potential new customers, and are investing in additional well stock to ensure anticipated future production levels are capable of being met."
Gas is sold from the Uquo field via the Accugas business to three main customers, with gross take-or-pay volumes of 141 million cubic feet (3.99 million cubic metres) per day in 2019. Oil and condensate from the two fields are sold under an offtake deal with Mobil Producing Nigeria (MPN) and is exported via the Qua Iboe terminal.
Production of gas is expected to rise on greater demand in the first half of 2020, largely as a result of the addition of the Alaoji power plant, which will be a new partner for Accugas. The company plans to drill and complete a gas producing well in 2020 on Uquo, in addition to recompleting an oil well as a gas producer and workover another gas well. This will cost an estimated $34.5mn, the bulk of capex in 2020. Accugas will invest around $7mn in facility upgrades.
Recommended for you

Savannah battles challenges, pushes back South Sudan