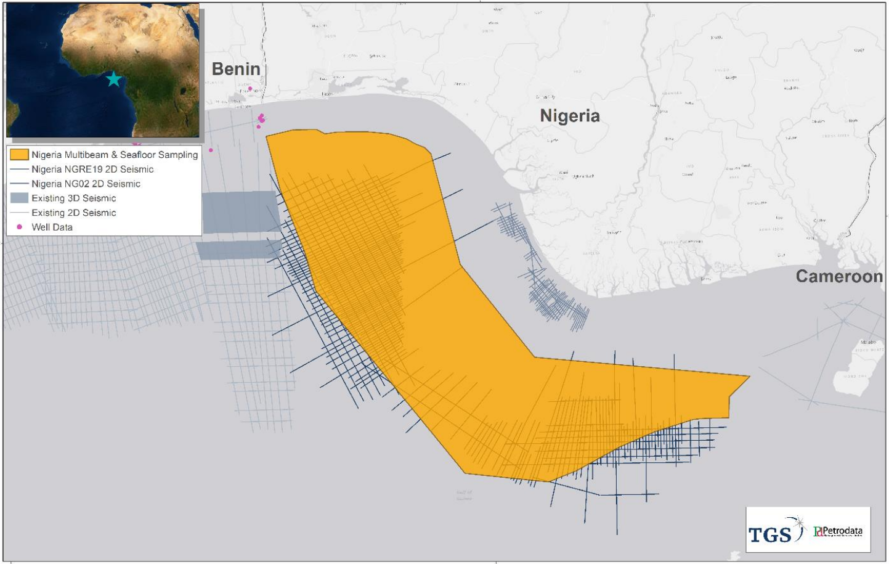 TGS and PetroData intend to carry out Nigeria's first multibeam and seafloor sampling (MB&SS) study. Results will be available early in the second quarter of 2020.
The area will cover 80,000 square km offshore Niger Delta and include around 150 seabed cores. TGS said this would focus on much of the area covered by its deepwater NGRE19 2D seismic shoot, which covers around 17,000 km. This 2D shoot was reprocessed earlier this year.
This marks Nigeria's first multi-client in nearly a decade, PetroData's managing director Wole Shebiola and vice president for the region Graham Mayhew said.
The SeaSeep technology is a "a complementary and valuable addition to our multi-client library", said TGS' CEO Kristian Johansen. "The multibeam, coring and geochemical analysis provides our customers with further insight into and understanding of regional prospectivity. Following its successful implementation in the Gulf of Mexico, Brazil and across the MSGBC Basin, we are pleased to expand the use of this technology into West Africa's most prolific hydrocarbon province."
"[Nigeria's] deepwater area offers vast potential, with plenty of open acreage opportunities. This programme will help de-risk the offshore region and speed up exploration decision-making in an area which is likely to see a growing level of licensing activity in the near future," the PetroData officials continued.
While there are challenges to operating in Nigeria, some positive signs are emerging with new impetus behind the Petroleum Industry Bill (PIB) aiming to get this legislation passed in 2020. Nigerian Minister of State for Petroleum Resources Timipre Sylva commented in October that the country planned to hold a deepwater licence round in 2020.
The MB&SS study is intended to reduce risk "by linking the mapped structures and modelled maturation scenarios for hydrocarbon sources sampled", TGS said. There are more than 10 fields producing from water depths of more than 1,000 metres off Nigeria, with the seismic company saying prospects may be feasible further out from the shelf. Drilling has tended to focus on the inboard, leaving opportunities downdip in the deeper water, TGS has said.
The NGRE19 data was originally acquired in 1998-99, when it was known as VERNG9899. Information from this shoot began to be reprocessed in December 2018, with work taking 10 months.