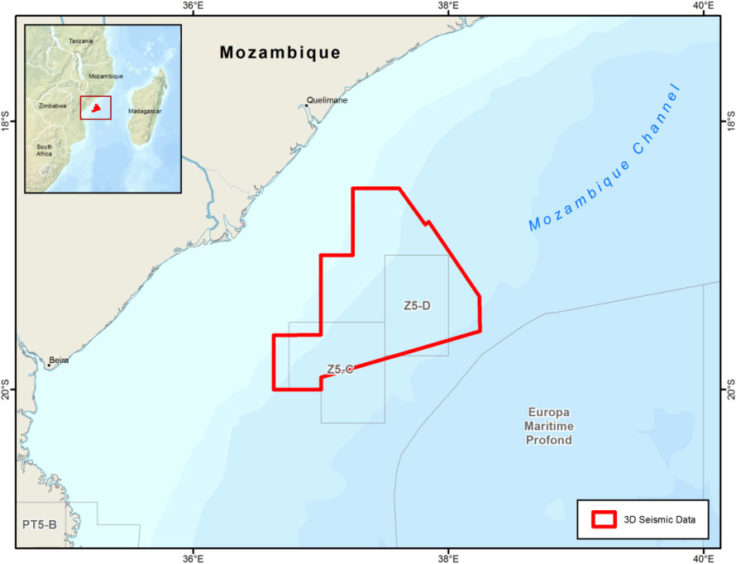 Data shot by CGG in a 15,400 square km seismic survey offshore Mozambique, in the Zambezi Delta, is now ready for licensing.
The company said the pre-stack depth migration (PSDM) 3D data was shot on Blocks Z5-C and Z5-D and surrounding open acreage. This was acquired under an agreement with Mozambique's Instituto Nacional de Petroleo (INP), signed in 2017.
CGG is also offering a JumpStart package for licensing, with the PSDM data. The company said this gave an integrated geoscience analysis of data in a geological context. The work also involves analysis of 11 wells, backed up with seep identification and high-resolution potential fields data.
The seismic and JumpStart packages "add to our extensive, high-quality African multi-client data library and will give the industry enhanced insight into this highly prospective region to accelerate and better inform their decision-making", said CGG's executive vice president for multi-client Dechun Lin.
The company announced the completion of the multi-client survey work in the Zambezi Delta in June 2018. Delivery of the PSDM data is slightly behind schedule, with the company saying it had been due to be delivered in the fourth quarter of 2019.
CGG said fast-track pre-stack time migration data was available in November 2018, ahead of the proposed 2019 licence round. This offering, which would have been the country's sixth, did not go ahead but may proceed in 2020.
The PSDM data provides insight of key stratigraphic intervals, with high-resolution gravity and magnetic data. The company's work includes full-waveform inversion (FWI) and reveals substantial detail on the area, including complex deep marine turbiditic systems and the complex faulting pattern and internal architecture of the Beira High.
ExxonMobil signed an exploration and production concession contract (EPCC) with Mozambique on the Z5-C and Z5-D blocks in October 2018. Initially, the US company was partnered with Russia's Rosneft and Empresa Nacional de Hidrocarbonetos (ENH). Qatar Petroleum and Eni farmed into the blocks – and A5-B – in December 2018 and May 2019 respectively.
Recommended for you

Sobriety has the upper hand, for now, in exploration