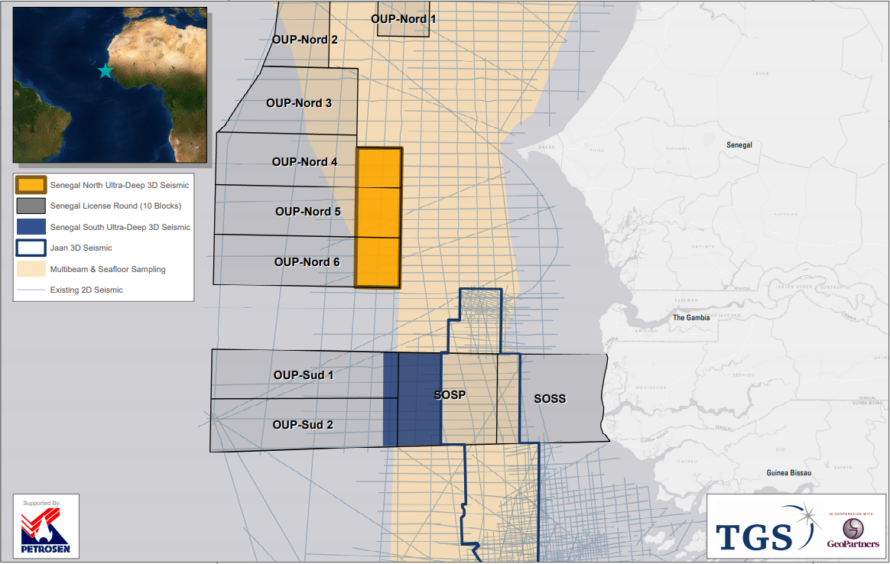 TGS has completed its SN-UDO-19 survey in northern Senegal and has begun a second shoot in the same region, OUP-NORD-20.
Previously the company had carried out the SS-UDO-19 survey, in Senegal's south. This first shoot covered around 4,500 square km, the second covered 5,100 square km. The next shoot, OUP-NORD-20, will focus on the acquisition of 2,024 square km.
First results from the southern should be ready in March, with conclusions in August. Fast-track SN-UDO-19 data is expected to be ready in the second quarter with the full findings in the last quarter of this year.
Work was carried out by the BGP Prospector. The next survey is also being carried out by TGS with GeoPartners and Petrosen. The company said the seismic would cover an open block that is included in the present licence round, which was launched at the end of January.
TGS said the data would shed light on deepwater fan systems that have already been tested on the inboard, with the Yakaar and Tortue discoveries. The data will play a part in supporting the licence round, it said.
"It is great to see that the new data being acquired will be used to unlock the as-yet unexplored deepwater potential of this emerging world-class hydrocarbon basin. We are proud to be bringing this data to our clients in order to enable future discoveries," said TGS' CEO Kristian Johansen.