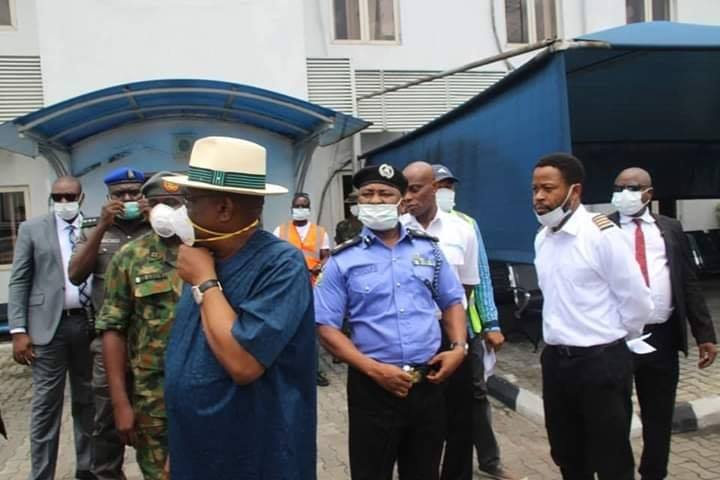 Rivers State Governor Nyesom Wike has personally overseen the arrest of two pilots from Caverton Offshore Support Group for illegally moving people into the Nigerian state.
Wike said a Caverton aircraft had been used to fly in unknown people, in defiance of the coronavirus quarantine measures. They were delivered to the Air Force base in Port Harcourt.
Rivers is in a "war situation", the governor said. "We want to know who are those people you brought in, so that we have to trace them to know their identity and status. Luckily we have seen the pilot and the co-pilot. They will assist the police to assist in identifying them."
Caverton issued a statement acknowledging the arrest of its pilots and 10 Nigerian passengers. The company said it had "all necessary approvals" from the federal government to be exempt from the presidential restrictions on movement.
"However, it appears that the [Rivers] state government does not recognise these approvals obtained from the federal government and today our staff [have] been detained," the helicopter company said. The federal government should urge the state government to release the pilots, Caverton said.
Wike, in a statement, acknowledged he lacked the power to close local air links. "But I have the right of saying don't enter my state because we want to know your status."
Caverton had "cut corners" at a time when the state government had set out procedures ruling the movement of expatriates from Lagos into Rivers. Security and health checks should have been carried out, the governor said, but "they decided to violate the regulations".
Two cases of coronavirus have been reported in Rivers. The second case had recently returned from the UK and had come via Lagos.
Wike said the police should prosecute the case in order to serve as a deterrent to others that might consider violating the state's regulations.
The Rivers State police commissioner Mustapha Dandaura said it was unclear what the passengers intended to do in Port Harcourt. "Maybe they are coming here to sabotage the activities of the state and the security agencies that are putting efforts on ground to ensure that Rivers State enjoy [a] peaceful atmosphere throughout this pandemic period."
Caverton provided approval from the Nigerian Civil Aviation Authority (NCAA) to continue providing flights for the oil and gas industry for an initial period of three months, dated April 1.
Recommended for you

NSCDC stands accused of extorting fuel retailers