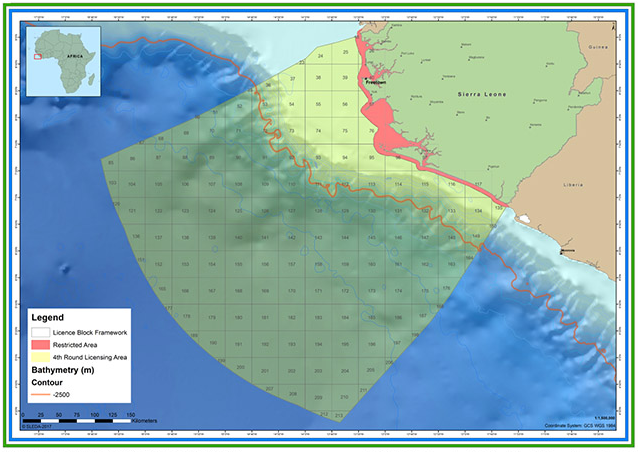 Six companies submitted bids for offshore exploration concessions in Sierra Leone's recent bid round.
A public ceremony was held in late March for the Fourth Petroleum Licensing Round. The process began in January 2018, Sierra Leone's Petroleum Directorate director general Timothy Kabba said at the event.
Kabba expressed delight at receiving six applications, which were described as meaningful for Sierra Leone's exploration business. A statement from the agency said it was appreciative of the participation. The round is supported by London-listed Getech, through its ERCL subsidiary.
The Petroleum Directorate aims to deliver the results as soon as possible, it said. The agency assured its stakeholders that it would deliver an "impartial and fast-tracked evaluation that can yield outcomes that will stand the test of time".
At the opening ceremony, each of the bids were checked to make sure they complied with statutory bid requirements.
The Fourth Licensing Round was launched at the beginning of 2018, with the expectation that it would close in June that year. In May 2018, closing was pushed back to September in response to the protracted electoral process.
Kabba took over as the head of the Petroleum Directorate in August that year and opted to suspend the licensing round. This was to provide scope for the country to hold talks with those in industry.
These talks led the country to change its licensing round plans, opening up its water for exploration and moving to a more flexible framework for blocks. Five areas had been marked out for bids, but the new system allows companies to apply for areas made up of contiguous blocks, each of which covers 1,360 square km.
It also opened the way for direct applications for areas which were largely in water depths of more than 2,500 metres, in recognition that the number of companies able to operate in such areas were limited. Furthermore, there are no minimum work specifications required in the first exploration phase.
The round was reopened in May 2019 and closing was again pushed back, in September that year, until the end of February 2020.