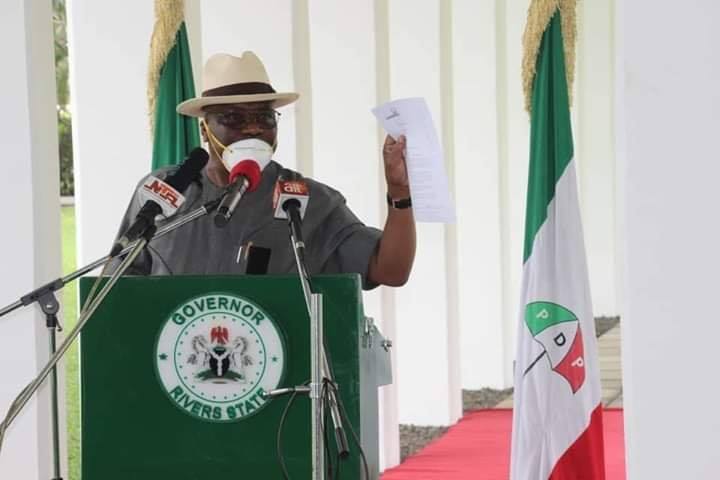 Rivers State has arrested 22 ExxonMobil employees for violating quarantine by entering the area from Akwa Ibom.
Rivers State Governor Nyesom Wike announced the move, saying the ExxonMobil staff had violated state restrictions. The prosecution of the 22 would be a test case for the country's laws, he said.
"We do not know the coronavirus status of these individuals. Even though security agencies advised that they be allowed to go back to Akwa Ibom State, I insisted that the law must take its course. This is because nobody is above the law," Wike said.
The governor went on to say actions by the federal government were dangerous in allowing free movement into Rivers.
"People in Abuja are not happy. They want Rivers State to be infected. They want to kill Rivers people and I will not allow it. I was elected to protect Rivers people," Wike said.
ExxonMobil has no operations in Rivers but does have a base at the Onne seaport. ExxonMobil representative Todd Spitler said the company was working with the Rivers government to resolve the matter.
"We continue to support measures being taken by local, state and federal governments during the novel coronavirus pandemic. We comply with all applicable laws, rules and regulations wherever we operate," he said.
The head of the PENGASSAN union for ExxonMobil Razaq Obe objected to the arrest of the employees and said quarantine practices had been observed.
We vehemently condemn the actions of your officials who have refused, despite our entreaties, to see that oil production shutdown is capable of crippling our economy.

We demand immediate release of our Comrades being held. @SaharaReporters @NCDCgov @MKKyari

— Razaq Obe (@RazaqObe) April 16, 2020
Obe, who put the number of arrested at 21, said they had been "detained, verbally assaulted and starved". Wike's enforcement of the quarantine was a "tool of muscle flexing and oppression of oilfield workers".
Wike had previously ordered the arrest of two pilots employed by Caverton Helicopters and the 10 passengers they had transported to Port Harcourt, from Lagos. The governor took the opportunity to reiterate that action against Caverton was following due process.Caverton has previously stated that it was approved to fly into Rivers because it had authorisation from the federal government to continue operations. Following the arrest of the two pilots, Wike ordered the company to halt operations in the state.
While the governor has been critical of some companies, he praised Nigeria LNG (NLNG) for following the state's health protocols and liaising with his government when moving staff. "This is what is expected of a responsible corporate organisation."
Wike has talked up his actions to tackle coronavirus but decided to relax restrictions temporarily to allow the celebration of Easter.