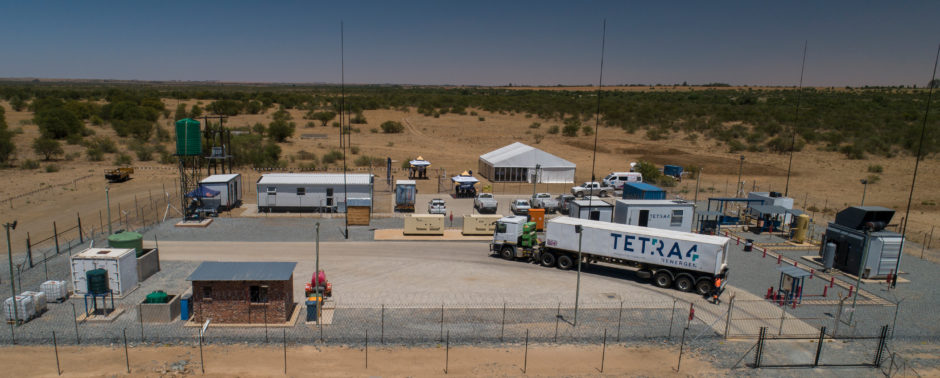 Renergen's Virginia project in South Africa has some of the hallmarks of a classic small-scale gas production plan, but with the added wrinkle of a shift to helium.
"The US declared helium critical to national security", Renergen's CEO Stefano Marani told Energy Voice in Johannesburg. Marani has been working with Renergen on the Virginia project since 2013. The company listed on the Johannesburg Stock Exchange in 2015 and in Australia in June 2019.
Helium is often produced alongside natural gas, but Marani highlighted the particularly high concentrations from Renergen's wells. "Qatar is separating helium out of its gas at around 0.05%. The highest concentration in the world is the US with aggregate concentration is around 0.35% averaging across their fields. Our average is 3.2%. Our last well is 12%."
The world's need for helium has helped Renergen secure backing for its plans from the US' Overseas Private Investment Corporation (OPIC), which went to become part of the Development Finance Corp. (DFC). OPIC agreed to provide a loan of $40 million to support the Virginia project.
This was driven by the helium aspect of the plan. "It's on the strategic minerals list and it's critical to US national security," Marani said.
Field plans
Gas production from the field comes from biogenic sources and volumes have increased as production has continued. The production is unlike a conventional field and more like a coal-seam gas play. While flow rates are around 144,000 cubic feet per day from a well, the costs are only $80,000 per well.
One factor driving helium production was an asteroid strike in South Africa about 2 billion years ago, creating the largest known crater on earth. "That is believed to have created a lot of geologically anomalous factors in the middle of South Africa," Marani said, with "an enormous uranium deposit". This deposit is deep but extremely rich in uranium and the decay of this produces helium.
The first phase of the company's project will start in 2021, with 70-75% of revenue under that phase coming from LNG. "We are working on quantifying phase two. We anticipate this could produce around 5-10 tonnes per day of helium, in an optimistic scenario, with around 200-250 tonnes per day of LNG," Marani said. This would see helium providing 60-65% of revenue, with the balance coming from LNG.
The helium from the project would be exported, although transportation of the gas requires substantial work. The temperature of the gas must be reduced to minus 269 degrees Celsius. "You take it down to a liquid, you pour it into a specialised tanker and then that has about 45 days to get to its customer."
The LNG, meanwhile, will be consumed domestically by South Africa's heavy trucks. "We are rolling out a series of filling stations and we will use LNG as a substitute for diesel in heavy haulage," he continued. There is an "enormous opportunity" in meeting this trucking demand, with stations to be installed along the major highways.
Shifting to LNG has benefits from an environmental standpoint, but also from an economic perspective, offering savings of up to 25% when compared with diesel.
Design work was completed on a pipeline on April 16. Construction will not proceed during South Africa's lockdown but the company does not expect delays as a result, because it was ahead of schedule. The link is expected to be completed in November this year, with gas to plant due in July 2021.
Manufacturing work for parts of the plant are being carried out in China, but coronavirus restrictions in that country appear unlikely to have an impact on timing. Once the South African lockdown lifts, Renergen plans to drill its first inclined well.
Facing the future
The second phase would be partially debt funded, partially equity funded, Marani said. "That financing will require updated reserve statements," which will be delayed as a result of some delays in drilling.
Some companies have struggled to make progress in South Africa, primarily those that had been hoping to tap much discussed but little understood shale reserves in the Karoo Basin. Renergen has benefited from being "in the right place at the right time", by securing its approvals in 2012, before the moratorium was announced.
The focus, for now, is to demonstrate commerciality at the Virginia plan's first phase and firm up the plan for the second phase. "We have ideas on where we would like to see the company go beyond the Virginia gas project but this is big. We will not see the kind of returns on other projects that we see in this project."
Recommended for you

Renergen celebrates $500mn DFC nibble