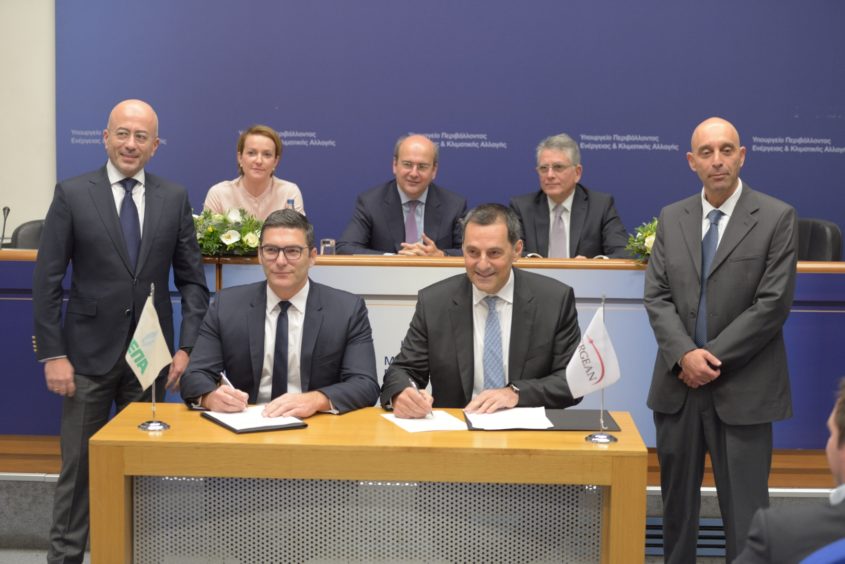 IGI Poseidon has invited companies to submit plans for the offshore parts of the proposed EastMed gas pipeline, which will run from the southeast Mediterranean into Europe via Greece and Cyprus.
A statement from Greece's DEPA said it was seeking interested parties to carry out work on the project, with the aim of pre-selecting two candidates.
DEPA said the plan was for engineering, procurement, construction and installation (EPCI) work to be carried out on four parts of the link. This would run for 1,470 km, it said, with a budget of around 3 billion euros ($3.3bn).
Once contractors have been chosen, preparations will begin. This will involve a re-examination of the front-end engineering and design (FEED) work and detailed submarine research and mapping.
The pipeline will be able to carry 10 billion cubic metres per year of gas and has been designated a Project of Common Interest (PCI) by the European Union. On- and offshore sections combined would involve a length of around 1,870 km.
IGI Poseidon, a consortium involving DEPA and Italy's Edison, has said it would invest 70mn euros ($76.4mn) into the project for development and planning, in order to reach a point where a final investment decision (FID) can be made.
Greek Minister of Environment and Energy Kostis Hatzidakis described the pipeline as one of "strategic importance, not only for Greece but for the whole of Europe".
The minister went on to endorse the invitation for contractors, saying this came despite upheaval cause by the coronavirus pandemic. "As a government and as a ministry, we have drawn up and are strictly implementing a comprehensive plan that guarantees the diversification of energy sources and routes and shields our country's energy security."
DEPA signed a letter of intent with Energean Oil & Gas in January for the purchase of 2 bcm per year of gas from fields offshore Israel.
While progress has been made on the EastMed project, Turkey remains opposed to the pipeline and has signed a deal with Libya's Tripol-based government dividing up the offshore area.
Recommended for you

IsDB stumps up financing support for contested Ugandan pipe