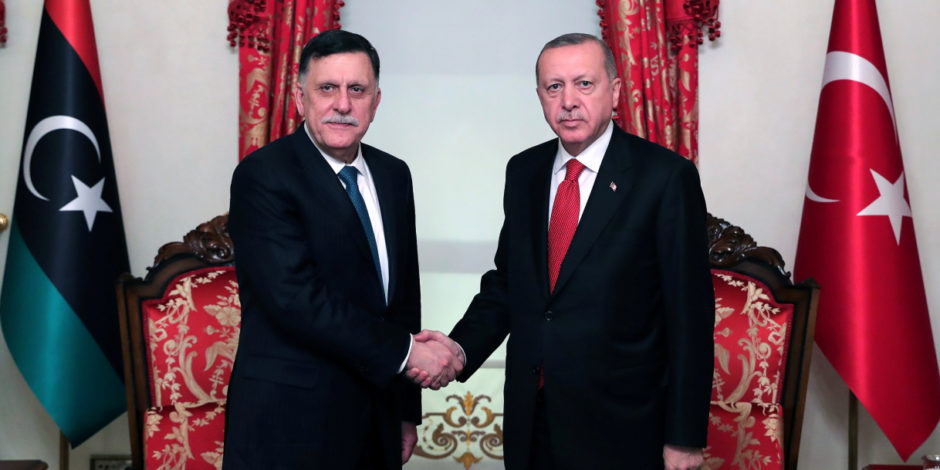 Turkey's Ministry of Foreign Affairs has warned that any attempts by General Khalifa Haftar to target its interests in Libya would have "severe consequences".
A representative of the Turkish ministry issued the warning in response to claims that the Libyan National Army (LNA), which Haftar leads, would use its airforce in an attack.
The flurry of threats follows a week when the LNA has suffered a number of setbacks in its fight against the Tripoli-based Government of National Accord (GNA). The LNA has lost at least four Pantsir S-1 missile systems, manufactured in Russia, and the al-Watiya air base, a key point for maintaining its offensive against Tripoli.
The Turkish statement said Haftar's threats to target its Libyan assets were a "clear indication" of the pressure on the LNA. Any attackers taking aim at Turkish interests would be seen as a legitimate target for retaliation, it said.
Haftar and the LNA imposed a blockade on oil exports in mid-January. This has acted to starve the central government of revenues from the hydrocarbon industry.
Should more progress be made in driving the LNA out of western Libya, the question of restarting exports will come to the fore. Sharara and El Feel are in Libya's southwest.
A note from Verisk Maplecroft's Hamish Kinnear said the LNA had been "on the back foot militarily since it lost the western towns of Surman and Sabratha" in April.
A report from Mada Masr quoted an anonymous Egyptian source as saying Cairo, and the United Arab Emirates, were working on plans to shift their support to Aguila Saleh, an eastern politician who has proposed a plan for peace.
The turnaround in Haftar's fortunes will be particularly embarrassing given his insistence that military victory over the GNA was the only way of reunifying the fractured North African country. The general issued a statement in late April claiming the LNA had the mandate to rule Libya and "liberate the country from terrorism".
While the eastern-based LNA was being successful a number of foreign states professed varying levels of support for Haftar's plans. Given the recent failure, it will pose new challenges as to whether he can continue.
Russia, the United Arab Emirates and Egypt have all shown varying degrees of support to the LNA, while the GNA has received backing from Turkey.
A turning point came in November 2019 when GNA Prime Minister Fayez al-Serraj visited Istanbul and signed an agreement with Turkish President Recep Tayyip Erdogan. This saw al-Serraj agree to divide up areas in the Mediterranean Sea between Libya and Turkey – and to the annoyance of a number of its neighbours – while receiving a number of Turkish-backed mercenaries.
Turkey has also been taking steps recently to improve relations with Algeria, delivering healthcare supplies earlier this month.
Kinnear went on to say the GNA would look to press on with its advantage by attempting to seize Tarhuna, describing this as an "essential cog in the LNA's supply lines to their position in Tripoli". Success in this move would make besieging Tripoli unsustainable, he said.
Updated at 6:24 pm with comments from Verisk Maplecroft's Hamish Kinnear and Mada Masr report.
Recommended for you

Tripoli takes Greece to task over minister who wouldn't budge