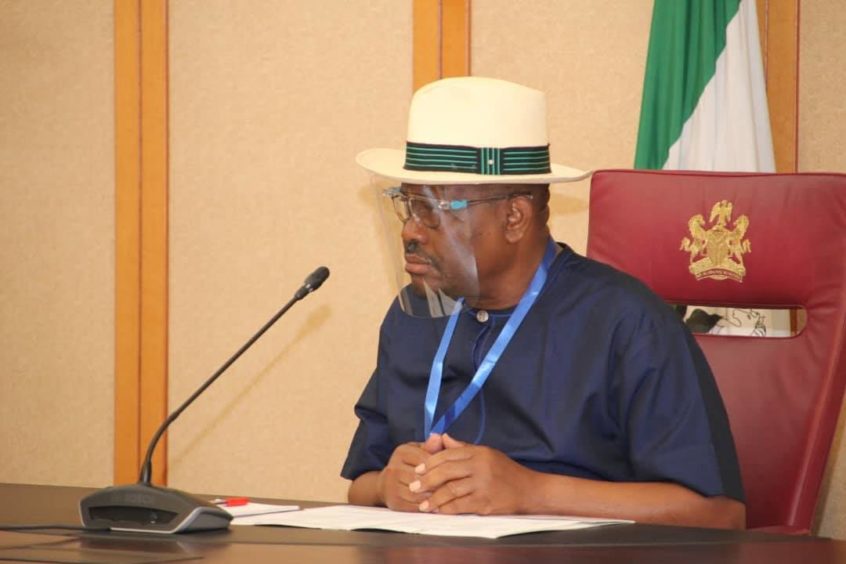 Three international oil companies have committed to building a COVID-19 treatment centre in the Bonny local government area (LGA).
Rivers State Governor Nyesom Wike announced the move by Nigeria LNG (NLNG), Shell Petroleum Development Co. (SPDC) and ExxonMobil's Mobil Producing Nigeria (MPN). The 30-bed facility at Bonny General Hospital should be ready in four weeks.
Wike said tests conducted in the Bonny area suggested this was the "epicentre of the pandemic". The highest number of positive tests come from oil workers, the governor said, accounting for 60% of cases.
"Nobody is against anybody carrying out oil exploration activities. All I have always argued is that if you are bringing people from outside the state, which is like an interstate movement, there is need for us to know so that we are able also to take precaution and make sure that they follow the protocol put in place by Nigeria Centre for Disease Control (NCDC)," said Wike
As a result there is a "need for us to work together so that we will be able to reduce this pandemic in the state", he continued. He also called on companies to provide items such as hand sanitiser and water to communities in Bonny.
Wike raised the possibility that he may impose a lockdown on the Bonny LGA.
The governor of Rivers also took the opportunity to criticise the federal government, which he has previously accused of trying to undermine his attempts to tackle the pandemic. Abuja has not shown sufficient interest in supporting the construction of the Bonny to Bodo road, in which NLNG has been involved.
NLNG announced the donation of a 10-bed centre to the Bonny Zonal Hospital, on May 6. The company has also supported the Bonny Malaria Eradication Programme, launched in 2019.
The NLNG facility is located in Bonny and Shell is working in the state. ExxonMobil does not have production in Rivers but does use a facility in the state. Wike's clash with the oil industry had its most high-profile manifestation when Rivers' security forces arrested 21 ExxonMobil employees.
Recommended for you

The Tinubu presidency and Nigeria's energy challenges