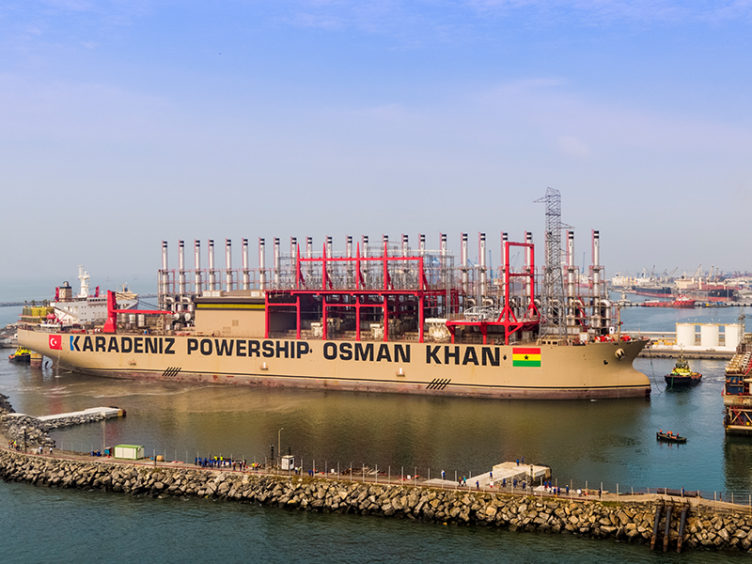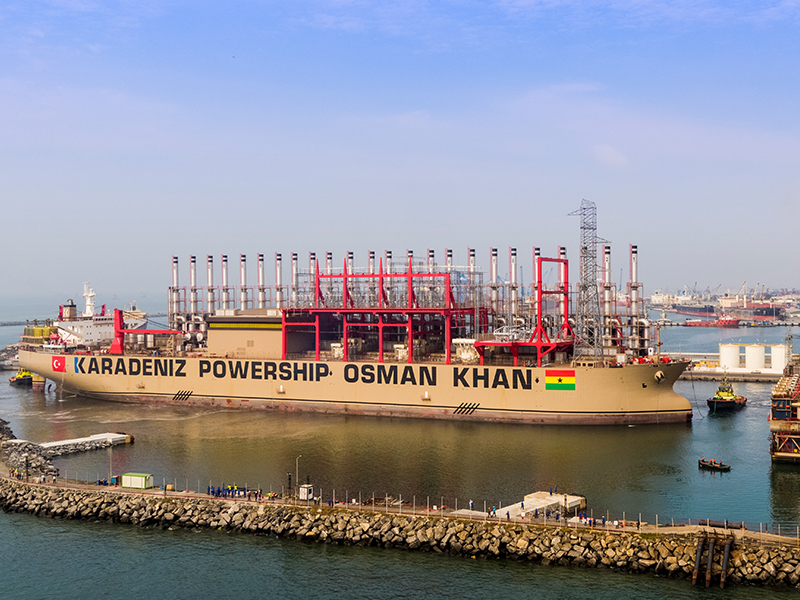 Countries that need power, need power now – and Karadeniz's Powerships may just be the fastest moving answer to this particular demand.
"African states need affordable electricity and they need it today, without project finance. It needs to be reliable and environmentally friendly," said Karpowership's chief commercial officer Zeynep Harezi. "We decided to build these Powerships and deliver them as a ready to operate plug-and-play solution that's almost fully financed by us."
Karpowership is part of the Karadeniz group, which is based in Turkey. The group moved into the power sector in 1996 and now has 25 Powerships, with generation capacity of 4,100 MW.
Harezi told Energy Voice that the ships have a projected lifespan of 25 years, but can be generating in place for as short as a year. Of the company's 25 ships, 19 are working in 11 different countries. "We have six in reserve that can be deployed immediately."
The Turkish company is considering options for expansion in Africa, Asia, the Middle East and Latin America.
Speed
One of the major advantages of the Powership plan is that it can be deployed so quickly. When a politician promises to bring power to a country, it is often the case that construction can take as long as a political term.
"That's a long time to deliver on a promise. There are no emergency solutions that are economic. The Powership breaks that chicken-and-egg cycle, we can deliver low-cost conventional power plants within 30 days of signing. In fact, in Sudan, it was four days after signing the contract," said Harezi.
Conventional onshore power plants must jump through a number of hoops, even before construction can start.
Coronavirus has increased demand for floating power, the executive said, given the increased difficulty of travel and hoop jumping. "Typically backers need to go and see the site and make sure it is all possible. Powerships avoid this."
Owing to the close quarters of the ships, action to prevent the spread of coronavirus onboard was paramount.
As the extent of the pandemic became clear, "we took the decision to rotate our operations and maintenance teams on the ships, bringing onboard well-rested teams. Our operations have continued with 100% reliability and those ships have been fully quarantined, it's fairly easy to shut off physical links."
As a result of precautions, the company's vessels have continued to operate at full reliability.
Pace of change
Harezi gave the instance of Kuwait as having seen power demand increase "beyond expectations", with lockdown having changed the nature of energy consumption.
"Libya is in the process of obtaining stability and there's an increasing drive for social welfare – one thing they need is electricity. Powerships are the perfect solutions. We can deliver enough capacity to put eight more hours of power on the grid within 30 days.
"No one else in the world can deliver large-scale utility power in such a short time frame and no one can compete on price at the smaller scale."
As a Turkish company, Karpowership is well placed to strike deals with the Government of National Accord (GNA). This Tripoli-based government has moved closer to Turkey following the signing of a high-level deal in November 2019.
Bridges
Harezi said the company was moving towards gas as the key feedstock of its facilities, while fuel oil was only a "bridging fuel". In the first instance, a Powership can take domestic production, as seen in Ghana. Karpowership sees gas as working to support expansion of renewables.
The 470 MW Osman Khan Powership had originally been working in Tema, running on liquid fuel. In 2019, the company moved the Powership from Tema to the country's west.
"We're producing power off Takoradi, using excess gas that would have otherwise been flared, which is bad for countries' resources and the environment. That Powership is almost fully dispatched.
"It started in Tema but there was some difficulty in linking in the gas so we moved the ship, instead of [building] a gas pipeline," said Harezi. Moving the ship took a week, while Ghana has struggled to execute its infrastructure projects.
A similar sized ship, the Onur Sultan, is working in Indonesia also running on natural gas.
There are also plans for mooring floating storage and regasification units (FSRUs), capable of receiving LNG deliveries, next to Powerships. Karpowership plans to start such a facility this year in Indonesia, Harezi said.
"In Senegal, our own FSRU will be supplying a Powership in less than six months. In Mozambique, a Powership with one of our FSRUs will be operating in less than nine months. These are the first LNG to power projects in Africa," the executive said.
Matchmaking
The flexibility of the company and its ships also led to a power swap in East Africa. Mozambique has more power than it needs in the south and unmet demand in the north. Moving power via transmission lines might lead to losses of 10%, Harezi said, a problem that does not occur when the power generation can be moved.
"We signed a deal with the power companies of Zambia and Mozambique. This saw Mozambique exporting power to Zambia, while we provided power to Mozambique – as we couldn't sell it direct to landlocked Zambia," she said.
Karpowership offers a fast and flexible approach to solving power shortfalls, but Harezi called for support for market operations by governments.
"The best way in which governments can help boost power generation is through complete transparency of information. It's so important to be able to diagnose what a country needs.
"What is the cost of power? What is the power portfolio and what is the fuel efficiency? Are there subsidies? Are bills paid? More data would allow everyone to think outside the box and find solutions that are data driven."
Recommended for you

'Lunacy' of industry's fail-fix approach to fire safety under the spotlight