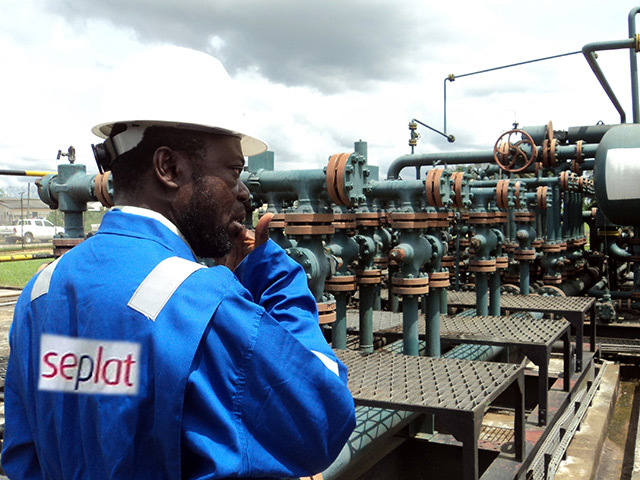 Seplat fell to a loss in the first half of the year as oil prices roughly halved, from $65.16 per barrel in the first half of 2019 to $35.94.
Production was up, at 51,177 barrels of oil equivalent per day. The recently acquired OML 40 and Ubima assets contributed 10,861 bpd, with these making progress in terms of cost cuts.
The company's two big infrastructure projects are progressing. The ANOH gas project, where it is working with Shell, should reach first gas in the fourth quarter of 2021, delayed from the first quarter of 2021. The Amukpe-Escravos should be operational in the second half of this year, but has been delayed because of access problems at the Escravos terminal.
Revenues fell to $233.5mn in the first half of the year, down from $355.1mn in the same period of 2019. Profit before deferred tax fell to a loss of $145.3mn, from a positive $120.4mn.
Full year capital expenditure is projected at $120mn, of which $86mn has already been spent.
Changeover
Seplat's outgoing CEO Austin Avuru said the company had "delivered a robust performance despite the unprecedented crises we have experienced since March. Our continued resilience is possible as a result of our financial strength, our careful management of risk and our prudent approach to capital allocation. Unlike many in our industry, we were able to protect our 2019 dividend and increase our capital investment to ensure continued growth."
Avuru noted that receivables owed from Nigerian Petroleum Development Co. (NPDC) had fallen. "The cash position is also robust because our careful management of debt has ensured that the majority of obligations mature in 2022 and 2023. We are operating within our covenants on all our lines of debt."
The CEO went on to say this would be his last set of results as CEO. Seplat's CFO Roger Brown will take over the top spot.
Brass tacks
Seplat completed five wells during the first six months of the year: Sapele-35, Ovhor-6ST, Ovhor-20, Ohaji South-5, Ohaji South-6. Eland completed the Gbetiokun-5 well, which is producing around 5,000 bpd, while an extended well test at Ubima is running at 1,200 bpd.
The company said it had managed to reduce export costs at OML 40, cutting barging costs from $14 per barrel to $9. Using larger barges should cut this further, it said.
The Amukpe-Escravos pipeline will provide a third export route for OMLs 4, 38 and 41, the heart of Seplat's operations. These produced 36,652 boepd in the first half, of which 19,592 bpd were liquids.
COVID-19 cases at the Escravos terminal have slowed progress . Once the 160,000 bpd link has been completed, it should "significantly improve the assets' production uptime and reduce losses from crude theft and reconciliation".
The pandemic has also had a slight impact on ANOH work. This involves a 300 million cubic feet (8.5 million cubic metre) per day processing plant at OML 53. Seplat said COVID-19 should not have a further delay on equipment delivery for the work.
Seplat and Shell Petroleum Development Co. (SPDC) intend to spud the first well for ANOH in November. The total cost for the project is $700mn. Seplat launched debt funding for $320mn in April and the response had been strong, it said. The company expects to complete this in the last quarter of 2020.
Recommended for you

Oil lifts Seplat higher, but pipe problems continue