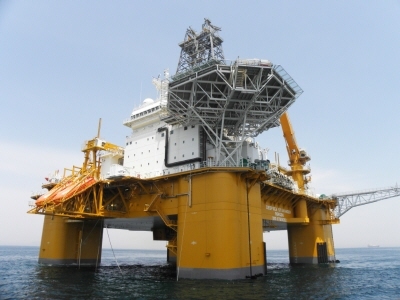 Total has spudded the Luiperd-1X well, offshore South Africa, as ExxonMobil has confirmed its exit from the state.
Africa Energy announced the beginning of drilling on Block 11B/12B. The Luiperd well follows the Brulpadda discovery of February 2019.
The operator is drilling the Luiperd-1X well in 1,795 metres of water. The Odjfell Deepsea Stavanger semi-submersible will drill the well to a total depth of 3,550 metres.
Africa Energy, a junior partner in the offshore block, said the well would test the mid-Cretaceous aged deep marine sequence. Fan sandstone systems are expected to have developed within a combined stratigraphic/structural closure. The prospect is the second of five in the block, identified through a combination of 2D and 3D seismic.
Total should complete and evaluate the well in the fourth quarter of this year.
"The Outeniqua Basin offshore South Africa remains an under-explored, world-class hydrocarbon province. In the success case, the joint venture plans to flow test the Luiperd-1X borehole by performing a drill stem test. We look forward to drilling results in the fourth quarter," said Africa Energy's vice president of exploration Jan Maier.
The block covers around 19,000 square km, in water depths ranging from 200 to 1,800 metres.
The same rig drilled the Brulpadda discovery, although this was in slightly shallower water at 1,400 metres. Conditions on the block are fairly tough. Weather forced Total to cancel previous drilling in 2014.
Offshore moves
Total E&P South Africa has a 45% stake in Block 11B/12B, while Qatar Petroleum International Upstream has 25% and CNR International (South Africa) has 20%. Africa Energy has a 49% stake in Main Street 1549 (Proprietary), which has a 10% stake in the block.
Africa Energy announced plans to increase its stake in Main Street through deals with Impact Oil & Gas and Arostyle Investments. Assuming these complete, Africa Energy would increase its stake to 10% in the block, while Impact and Arostyle would have stakes in the company.
At the same time, Exxon has confirmed it is leaving South Africa. The company's country manager for South Africa Steve Buck confirmed to Energy Voice that Exxon was to relinquish its three offshore licences.
Recommended for you

Indonesia approves ExxonMobil drilling plan at giant Cepu Block