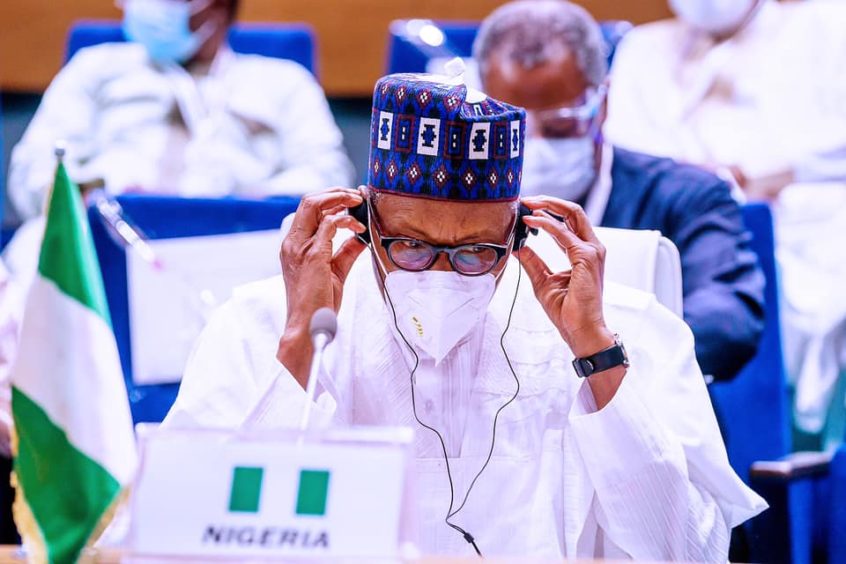 Nigerian President Muhammadu Buhari has defended the government's decision to halt support for fuel products and increase electricity prices.
Speaking at the State House conference centre, Buhari said revenues had fallen by almost 60% as a result of the oil sector's troubles. The economy contracted by -6.1% in the second quarter of this year, he said.
As a result, Nigeria launched an Economic Sustainability Plan. This aimed to reduce the impact of the pandemic on the economy, but also involved "some difficult decisions to stop unsustainable practices that were weighing the economy down".
One of the steps taken was to deregulate supplies of premium motor spirit (PMS), or gasoline. Ending this system when prices were low resulted in savings being passed to consumers.
"As oil prices recover, we could see some increases in PMS prices. This is what has happened now. When global prices rose, it meant that the price of petrol locally will also go up," the president said.
"We just cannot afford the cost" of bringing back the subsidy system, he said. Furthermore, cutting subsidies has eliminated queues for fuel.
The state will seek to reduce the impact of high prices on the most vulnerable, he said. The Petroleum Products Pricing Regulatory Agency (PPPRA) is focused on ensuring marketers do not exploit citizens by raising prices without reason.
"This explains why the PPPRA made the announcement a few days ago setting the range of price that must not be exceeded by marketers. The advantage we now have is that anyone can bring in petroleum products and compete with marketers, that way the price of petrol will be keep coming down."
Powering up
Despite the challenges, Nigeria has major growth plans for its power sector.
The Transmission Rehabilitation and Expansion Programme is intended to allow 11,000 MW be distributed by 2023. The country has signed an agreement with Siemens on improving transmission.
Buhari expressed dissatisfaction with the performance of the distribution companies, the so-called discos.
Power prices increased on September 1. The move had first been planned for July 1 but this was pushed back.
The president said this was only where companies can guarantee customers receive more than 12 hours of electricity per day. Customers who receive more hours of electricity pay a higher rate.
Nigeria is also working to improve metering in an effort to move away from estimates. More than 5 million Nigerians will receive meters, Buhari said.
The metering plans, plus solar home systems, should create more than 300,000 jobs, he said.
Former vice president and opposition politician Atiku Abubakar was critical. If the country had "truly deregulated", fuel prices would be lower, he said.
He also rejected the new power tariffs. "Coming out of the lockdown, Nigerians need a stimulus, not an impetuous disregard for the challenges they face. Many Nigerians have not earned an income for months, due to no fault of theirs. This increase is ill-timed and ill-advised," Abubakar said.
Recommended for you

SERAP files suit against president over mismanaged refineries