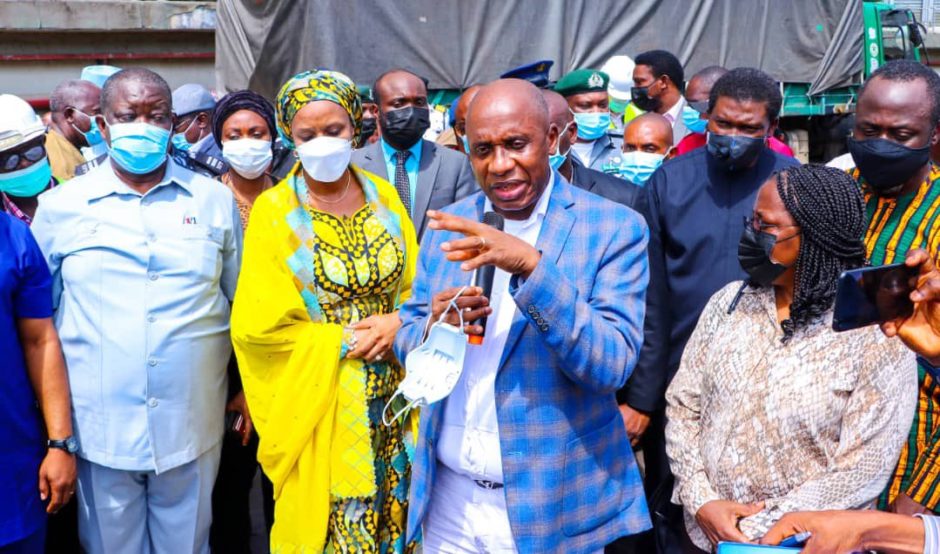 Nigeria has suspended the head of the ports authority amid claims that she provided unfair dispensations to Dangote Group.
Hadiza Bala Usman was suspended on May 6 from her role as head of the Nigerian Ports Authority (NPA). Nigerian President Muhammadu Buhari agreed that Usman should step back while an investigation is carried out.
Minister of Transportation Rotimi Amaechi recommended a panel be launched into the NPA's management, a Buhari spokesman said.
The director of maritime services at the ministry will lead the panel, while the deputy director of legal services will be secretary.
Buhari's statement on NPA did not specify what charges the panel would investigate.
The panel is to be headed by the Director, Maritime Services of the Ministry while the Deputy Director, Legal of the same ministry will serve as Secretary.
A statement from the Ministry of Transportation took issue with claims in the This Day newspaper alleging Chinese companies had been chosen to manage Bonny and Warri Channels.
The ministry said this was an "unfounded and malicious allegation", which was intended to disparage the ministry and the minister, Amaechi.
The statement said NPA had been in the habit of awarding contracts for channel management. The ministry had instructed NPA, in January, to take care of this on its own.
The ministry said the NPA had not responded to the ministry's directives. The NPA "was engaged in obvious profligacy and wastage of public funds", the ministry continued.
The panel will investigate issues around the NPA's management dating back to 2016, it said.
Usman allegations
Sahara Reporters has raised a number of allegations against Usman. Among the allegations the news agency has raised are that NPA took assets from Intels and awarded them to a Dangote proxy, International Container Terminal Services (ICTS).
It also reported allegations that money had gone missing from NPA and that Usman had awarded contracts to her brother.
A memo from the NPA has circulated on social media, addressed to Intels' managing director. The letter cites congestion at Lagos Port and the impact this has had in slowing down Dangote's plans.
As a result, the NPA said Dangote would divert cargoes to the Onne Port. It went on to say that fees would be paid based on cargo type, rather than on the designation of terminals.
Critics have said the decision, to change the way in which fees were calculated, caused revenue shortfalls.
The opposition has called for the Economic and Financial Crimes Commission (EFCC) to investigate Usman. They allege the NPA head caused a 165 billion naira ($434 million) shortfall.
Usman has denied the allegations.
Eid Mubarak…."Taqabbalallāhu minnā wa minkum"May Allah accept [good deeds] from you and us"
At the place of the Emir of Zazzau with my forever Boss @elrufai. We remain resolute in the believe that the truth always triumphs…Allah's protection and guidance for always…🙏🏼🙏🏼💪🏽💪🏽 pic.twitter.com/jEF3TSgGxv

— Hadiza Bala Usman (@hadizabalausman) May 13, 2021
Recommended for you

Tanzania's new president suspends ports head